Antiques fair in Hong Kong going strong even after decade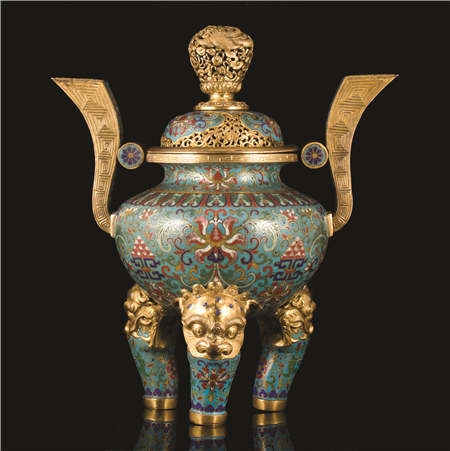 A Tripod Gilt Bronze and Cloisonné Enamel Censer.
But by that time, international auction houses like Christie's and Sotheby's had already conducted antique sales in Hong Kong.
Chak and other dealers were frequent bidders for such sales.
Still he believed the city needed an antiques fair.
"A difference between a fair and an auction is that at a fair, people have more time to communicate with exhibitors and to decide whether to buy or not.
"While at an auction, the bidding runs fast. The object is sold in a flash, before you have a thorough consideration."
At the beginning there were few mainland visitors at the fair. But gradually it has attracted a number of collectors and exhibitors, and a bulk of them are from Beijing, a hub of classic Chinese art.
Chak says they began to hold road shows for the fair in Beijing and Shanghai last year. They want to reach more dealers and collectors, and are keen to expand the fair to the mainland.
Chak says some local governments have reached out to them in the hope of holding the fair in their cities. "We are happy to bring a lineup of international dealers to the mainland."
Chak says the fair normally has some 70 exhibitors from across the world, and the total value of their objects may surpass hundreds of millions of HK dollars.
"We hope that there will be preferential tax policies."
Christian Deydier, a French dealer who regularly exhibits at the fair, says for Chinese collectors and dealers who are new to an international market, attending a fair is part of the lot of "homework" they should do if they want to make collecting a long-term commitment.
"Collectors need to go to a museum, read books, talk to dealers and touch the objects at the fair, as it's very difficult to be a collector."