Focus on innovation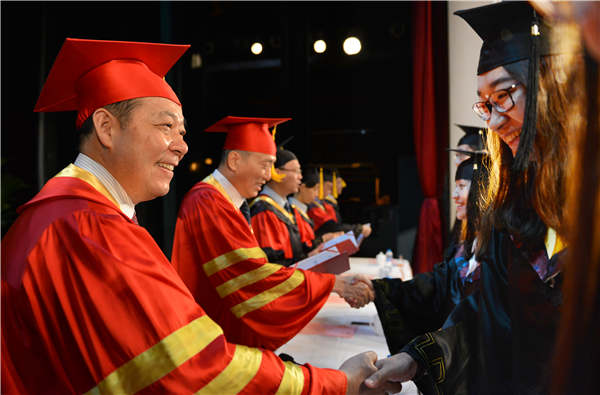 Yang Xianjin, Party chief of Tongji University, delivers diplomas to graduates in Shanghai in June 2016. Photos provided to China Daily
Tongji University is eager to make its courses more relevant for the new generation. Xu Xiaomin and Wang Hongyi report in Shanghai.
Shanghai-based Tongji University is seeking innovative ways to boost its offerings. The university's Party chief Yang Xianjin says that Tongji is also looking for ways to improve its talent cultivation and courses.
Yang says: "As President Xi Jinping called on us to achieve the goal of the great rejuvenation of the Chinese nation and fulfillment of the Chinese Dream, I feel the country has a huge demand for high education and talent.
"And cultivating talented people to meet the country's demand for development has long been a key issue for educators."
The establishment of the Imperial Tientsin University (Peiyang University) in Tianjin in 1895 marked the start of China's high education journey, and during the past 122 years the country has seen remarkable progress.
"China now is an important nation when it comes to education. But as it enters a new era, new types of higher education are needed.
"First, we have a new generation born in the late 1990s and early 2000s who are connected to the internet," says the professor, an experienced university educator and administrator who has been on the campus since his graduation in 1984.
Teaching ideology
Meanwhile, to meet its goal of improving higher education, the 110-year-old Tongji University, which is well-known for its engineering and architecture courses, is looking at social sciences.
In January, the university convened a special meeting to discuss and explore the development of humanities and social science disciplines.
Speaking about the disciplines, he says: "The period between 18 and 22 is the best time in a person's life, and it is an important responsibility for us educators to help these students develop their views of the world and their values. That is why we need to focus on social sciences."
Typically, ideology education is seen as boring by students, and the traditional blackboard teaching style used to teach it is seen as a turn-off.
But Yang says: "It (ideology) should be sprinkled like salt on food, which should blend naturally in the dishes, thus making it more palatable."
So now, instead of using only the blackboard and chalk, teachers in the Tongji University have begun to blend ideology into their courses.
For instance, the university has launched a plan to reform the China's Current Situation and Policymaking course.
Now, teachers use slideshows and video clips, and use current events in their teaching, which has won favor with the students.