Celebrated paintings unveiled at French cultural festival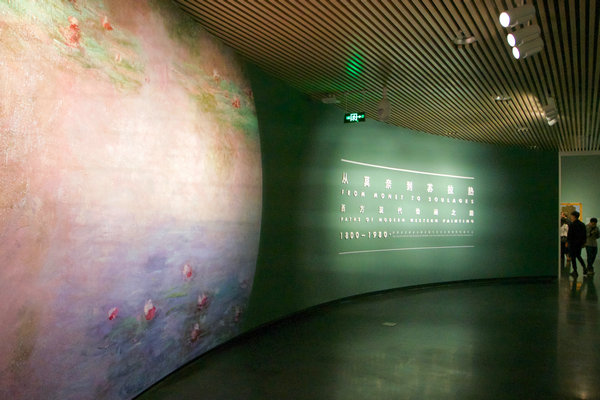 The exhibition hall in the Tsinghua University Art Museum. [Photo by Li Wenrui/chinadaily.com.cn]
The opening ceremony of the touring exhibition "From Monet to Soulages: Paths of Modern Western Painting (1800-1980)" as well as the 2017 Croisements ("crossing") Festival kicked off on May 6 at the Tsinghua University Art Museum.
As the most important foreign cultural festival in China, the Croisements has attracted nearly 15 million attendees since it first began. This year, art, music, theater, dance, film and literature activities will be held in over 30 cities across the country.
"Culture plays a vital role in boosting Sino-France relations," Maurice Gourdault-Montagne, the French ambassador to China said. "The Croisements Festival enters its 12th year in 2017, referring to a sense of maturity and the completion of a cycle symbolized by the twelve animals of the Chinese zodiac."
"Mutual learning and communication will promote the cultural prosperity of China and France," Feng Yuan, the curator of Tsinghua University Art Museum said. "Chinese artists have been gaining inspiration from western paintings during cultural exchanges, which will go a long way with developing Chinese modern art."
The exhibition presents Western art from the beginning of the 19th century to the second half of the 20th century, gathering pieces by Gustave Courbet, Claude Monet, Henry Matisse, Pablo Picasso, Jean Dubuffet and Pierre Soulages.
51 paintings from the collection of the Museum of Modern and Contemporary Art of Saint-Etienne Metropole will be on display covering impressionism, symbolism, cubism, surrealism and abstract art. This is the first time any of these artworks have been exhibited in the Chinese mainland.
The Museum of Modern and Contemporary Art of Saint-Etienne Metropole, known for its collection and display of Western contemporary art, has over 20,000 pieces of art.
The exhibition is divided into six sections to show the confrontation and evolution of different artistic styles.
The artworks are displayed at the Tsinghua University Art Museum in Beijing, followed by the Chengdu Municipal Museum and Wuhan Art Museum.
If you go:
May 7-August 31. Tsinghua University Art Museum, 30 Shuangqing Road, Haidian district. 010-6278-1012
Ticket: 20-60 yuan ($3-9)