What's on in Beijing (May 6-12)
Discover the best things to do in Beijing with our weekly roundup of art and exhibitions, music and performances, and trending activities to do around town. To recommend an upcoming event or activity, please contact li-ping@chinadaily.com.cn.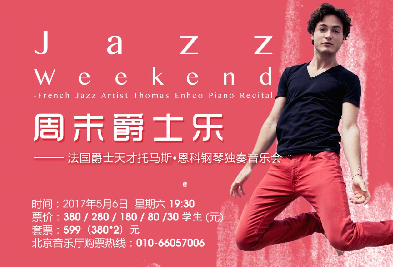 [Photo/Beijing Concert Hall]
Music:
Jazz weekend
Beijing Concert Hall has launched its classical music season of the year that will run through December. French pianist Thomas Enhco's Jazz show this weekend is one episode in it.
Born in Paris, Enhco started playing the violin and piano at an early age, and studied classical music and jazz in both instruments. At 12, he entered the Centre des Musiques Didier Lockwood, where he was spotted by the drummer Peter Erskine who offered to collaborate in Enhco's first CD. In 2006, Enhco released his first album, Esquisse.
If you go:
7:30 pm, May 6. Beijing Concert Hall, 1 North Xinhua Street, Xicheng district. 010 6605 7006
Ticket: 80-599 yuan ($12 - 90)