High-level memorials unearthed from Haihunhou tomb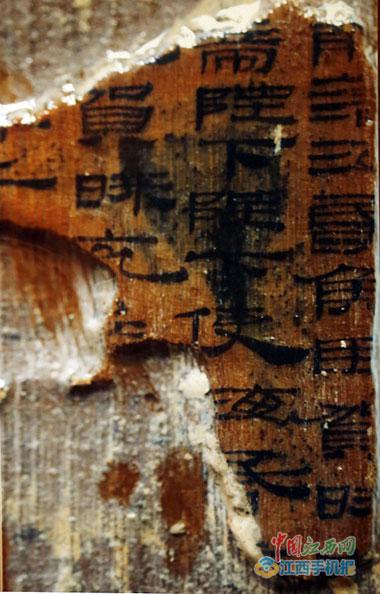 A memorial before restoration [Photo/jxnews.com.cn]
Several memorials unearthed from the Haihunhou tomb in Nanchang have been confirmed to be official documents presented to the imperial court. The three pieces already released were all written with ink in Li script, according to the Nanchang Evening News.
Based on the analysis by Zhang Yuzheng, an expert in history at Beijing Union University, the memorials may be the oldest original copies of senior official documents in Han Dynasty (BC 206-AD 220), which has great value for the study of ancient official documents.
The unearthed bamboo slips were memorials to the throne
Among the three publicly released memorials, two of them remain fairly intact with exact date information, though the handwriting is partly damaged. Chinese characters meaning "concubine" and "Haihunhou He" can be seen on the memorials, which shows that they were written by the Marquis of Haihun Liu He and his wife.
Zhang Yuzheng suggested that according to Hanshu (History of Han), the memorial presented to the imperial court should be in two copies, with the original copy submitted to the emperor and the duplicate to the minister. The minister would first review the contents and then decide whether it was appropriate to be submitted to the emperor. The system was abolished during the reign of Emperor Hanxuan in the Han Dynasty. The unearthed memorials from Haihunhou tomb are believed to have been written on the fourth year of Yuankang during the reign of Emperor Hanxun when the system was already abolished.
Therefore, Zhang holds that the unearthed memorials written with date information "fourth year of Yuankang" were very likely the original copies of official documents, instead of duplicate ones.
The whole structure and content are also complete, the handwriting is quite neat, and the format is strict, consistent with the features of an original copy, according to Zhang.