Chinese put finishing touches on exhibition at Venice Biennale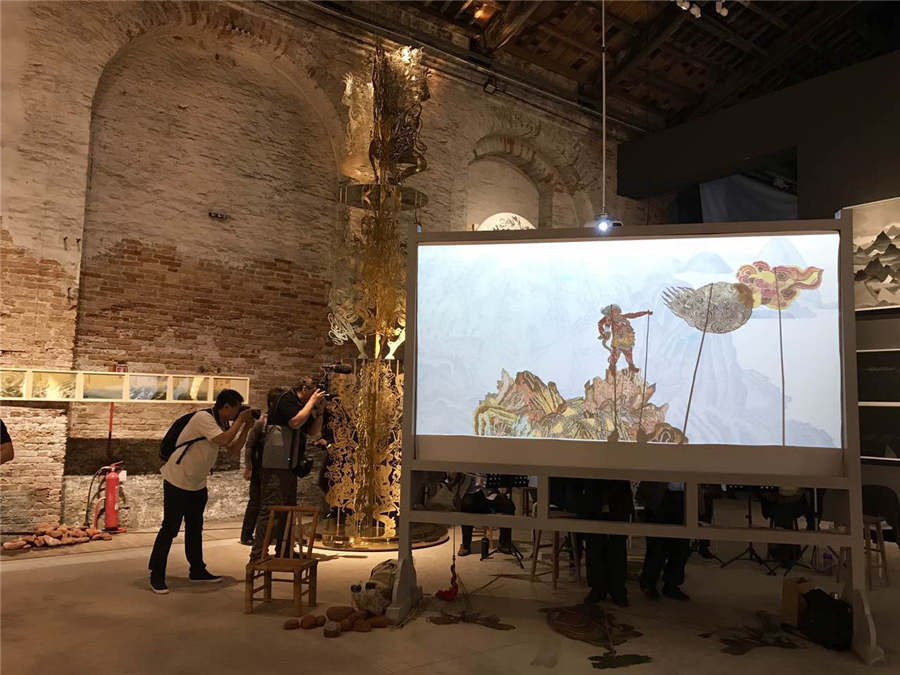 Artists and staff at the Chinese Pavilion are finalizing the presentation of their works as the 57th Venice Biennale draws near. [Photo provided by Chen Yi]
As the 57th Venice Biennale draws near to its opening day on Saturday, artists and staff at the Chinese Pavilion are finalizing the presentation of their works, including rehearsals for the centerpiece work titled Continuum – Removing the Mountains and Filling the Sea.
The multimedia shadow-play performance is based on cooperation between contemporary and folk artists. Six performers from Huaxian county, northwestern Shaanxi province, will present original shadow plays on three screens. They will operate shadow puppets that were jointly created by Wang Tianwen, a puppet-sculpting folk artist from the provincial capital Xi'an, and two contemporary artists, Wu Jian'an and Tang Nannan.
The plays will narrate three classic Chinese fables: The Foolish Old Man Removes the Mountains, Jingwei Filling the Sea, and Fish Kun Morphs into Bird Peng. The audience can both enjoy the performances and see how folk artists operate the puppets, play music instruments and sing.
The Chinese Pavilion is curated by Qiu Zhijie, who says the exhibition reflects Chinese wisdom of eternity. It will explore the enduring energy behind the progress of Chinese culture for centuries. It will also feature works of four participating artists: Wang Tianwen, Wu Jian'an, Tang Nannan and Yao Huifen, a hand embroider from Suzhou, eastern Jiangsu province.
The biennale will preview from May 10 to 12, with an awards inauguration ceremony on May 13, and run through Nov 26.