Iranian businessman finds success in Yiwu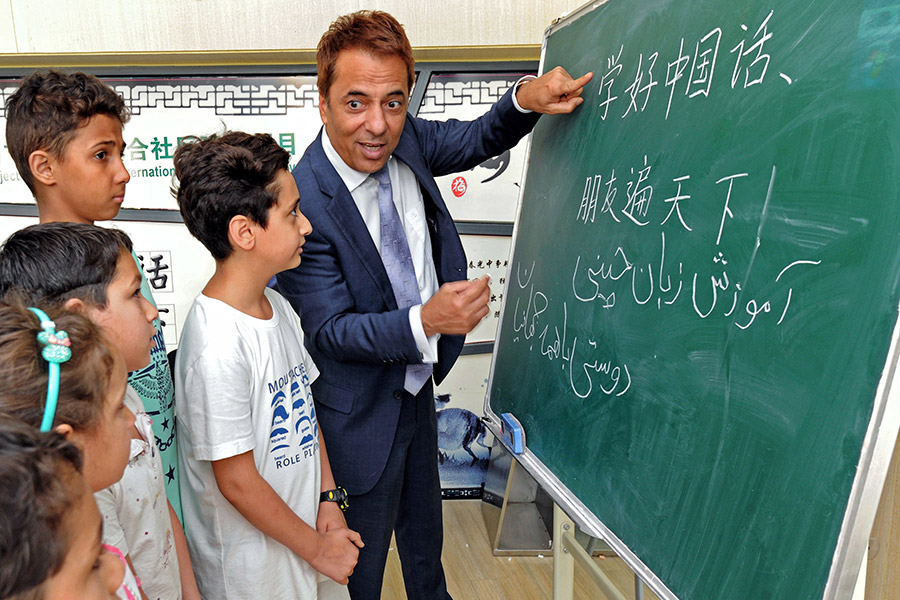 Hamid Dehgh teaches Chinese to children from Middle Eastern countries, in Yiwu, Zhejiang province, May 9, 2017. [Photo/Xinhua]
Hamid Dehgh, from Iran, has been running a silk scarf business in Yiwu for 14 years.
In 2007, Dehgh and his wife, a Chinese woman, established a trading company, the first one founded by a foreigner with import-export rights in the city. After 10 years of development, their company has branches in Beijing, Shanghai and Guangzhou, and expanded the business to other cities in Asia, Europe and North America.
Dehgh speaks fluent Chinese and is proud to be a local in Yiwu. Now, the man's family is settling down in the city, and his daughter studies at a local middle school.
When the 52-year-old Iranian businessman isn't working, he likes fishing and car racing. He said fishing trains his willpower, and car racing reminds him to follow China's quick development.
Today, over 1.8 million commodities are exported from Yiwu to 219 countries and regions in the world. According to the Yiwu Public Security Bureau's Exit-Entry Administration Bureau, 15,000 foreigners from more than 100 countries and regions live in the city.