Chinese art market booms with alert of counterfeits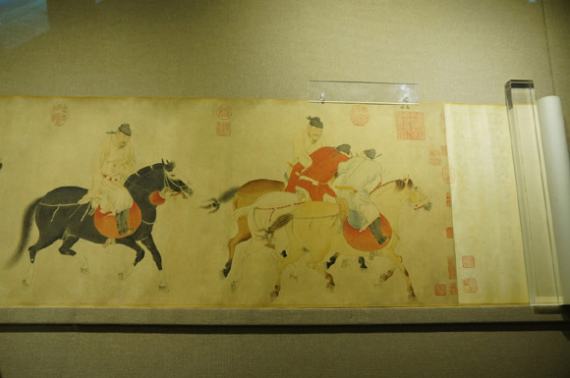 "Five Drunken Princes Return on Horses" by Ren Renfa. [Photo/CGTN]
China hardly registered in the art market scene around ten years ago, but it has now overtaken the United States as the world's largest art market. But such was its hasty arrival at the top table, and it has been struggling to cope with issues such as authentication.
In 2016, art sales in China were reported to be worth about $4.8 billion, accounting for more than a third of the world's total.
The most expensive work was, "Five Drunken Princes Return on Horses" by Yuan Dynasty artist, Ren Renfa, which went for about $46 million. "Album of Landscapes" by Qi Baishi, and "Snow-capped Mountains in Switzerland" by Zhang Daqian, were both sold for more than $14 million at Beijing's Poly autumn auction.
However, it seems that more and more forgeries are being identified. According to a survey, nearly a third of the works which were sampled in 2013 were seen to be counterfeits.
"The hotter the market is, the greater the chance of counterfeits. Because there is a lot of interest in it," the Capital Normal University's Professor Han Chao says.
A few artists have admitted that their works have been forged. In addition, the development of technology enables this kind of illegal activity.
"Someone sent me a picture of Li Keran, and I took a look at it and told him it is real. But I also told him that I have to look at the original one to make sure. However, it turned out it was a counterfeit. Modern technology is very developed, like 3D printing. So the emergence of fake works is common," Capital Normal University professor Han Chao said.
In the absence of supervision and control, some industry practitioners spotted an opportunity. Ordinary consumers with no discernible experience couldn't tell an authentic work from a fake one.
The lack of integrity became a major headache for new consumers entering the art market. Even worse, artists and collectors were powerless when it came to protecting their rights.
"You can take it to the court, but the legal process is very long and the result is uncertain. Whereas the auction house or the so-called auction market is not responsible for the sale once the transaction is done. You can't even find who sold the artwork to you because that is classified information," artist Han Shuli says.
But that particular ruling has seen its day. The Chinese Ministry of Culture has issued a set of regulations which define an official standard for the art market. The regulations stipulate that auction houses must not mislead consumers, while protecting their right to know about the source of the work.
Meanwhile, it won't all fall on the auction houses. Today's artists will be responsible for authenticating their own art works.
Last October, some eight companies -- including the Artron group -- established authentication systems which have become a major standard for artworks evaluation.
Now every piece of art is "traceable", so that the fake ones will have no place to hide.
The emerging Chinese art market also led to the development of the art finance industry, including loans, secured lending, insurance, appraisals and other services.
China's arrival on the art market scene was sudden, maybe too sudden, but it's slowly finding its feet.