Stolen pagoda donated by Taiwan shown in Shanxi Museum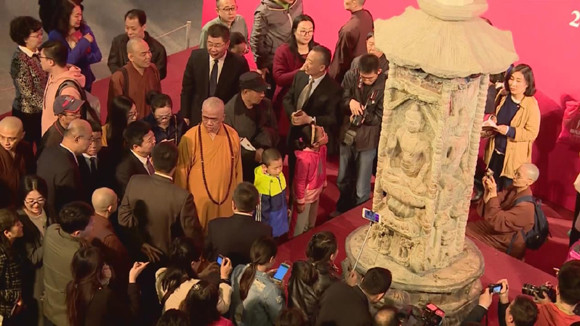 A ceremony was held on April 16 in the Shanxi Museum to celebrate the return of the relic. [Photo/CGTN]
After an absence of nearly two decades, the 1,300-year-old Dengyu Stone Tower eventually came back home in North China's Shanxi province.
The Chung Tai Chan Monastery in Taiwan has recently donated the ancient pagoda to Shanxi. The body of the stone tower was stolen from Dengyu village in Shanxi in 1998. When a private collector donated it to the Chung Tai Chan Monastery in Taiwan, the monastery decided to return it to Shanxi.
A month-long exhibition of this ancient pagoda has begun and will run until mid-May. Many visitors have come to appreciate the beauty of the pagoda.
Qiao Qiao is a Chinese teacher of a local middle school and has always been a fan of cultural relics. He says he came specially to see this stone tower and felt it's so exquisite and looks amazing. He also hopes that his students can come and learn about its history.
Zhang Huiguo, deputy curator of the Shanxi Museum, says the pagoda is a precious example of a Buddhist stone tower in the prosperous Tang Dynasty. "It's really rare to see such an exquisite Buddhist sculpture with such beautiful colors and four faces of Buddhist images. Experts are now doing more research on it."
The former abbot of Chung Tai Chan Monastery, Wei Jue decided to return the pagoda to Shanxi once he understood it had been stolen. When he passed away, his disciple honored his abbot's final wish. Many visitors say they feel moved by his kindness and generosity.