Da Peng's new film tribute to musicians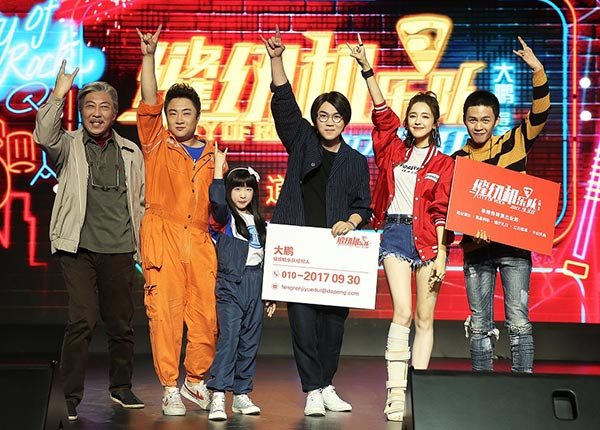 Dong Chengpeng (third from right) and the cast of City of Rock. [Photo provided to China Daily]
Dong Chengpeng, more popular as Da Peng, has unveiled his second directorial film centering on a group of people who struggle to keep their dreams in the music industry alive.
City of Rock, which stars Dong, Uygur actress Gulnezer Bextiyar and veteran actor Han Tongsheng, will debut in mainland theaters on Sept 30.
Set in Ji'an, a city in Northeast China's Jilin province and Dong's hometown, the film shows how five amateurs, including an 8-year-old keyboard player and a 54-year-old guitarist, established a band.
Dong dreamed of becoming a musician as a teenager, but encountered failure, including getting cheated of 40,000 yuan ($5,800) by a fake agency that promised to launch him, he said at a promotional event in Beijing on Tuesday.
He also mentioned Taiwan actor Lee Hong-chi's role in the film as a professional drummer.
"A music-themed movie usually has to train its stars for a long time to make them play instruments in a manner that looks as real as possible," Dong said. "But when I saw a performance of Lee, I thought I could save some time on training by having him in the movie."
Lee has been playing the drums for years.
Dong said he hoped the City of Rock surpasses his directorial debut Jian Bing Man, which made nearly 1.2 billion yuan ($174 million) at the box office in 2015.