Best-selling writer adapts Kunqu opera classic 'White Silk Gown'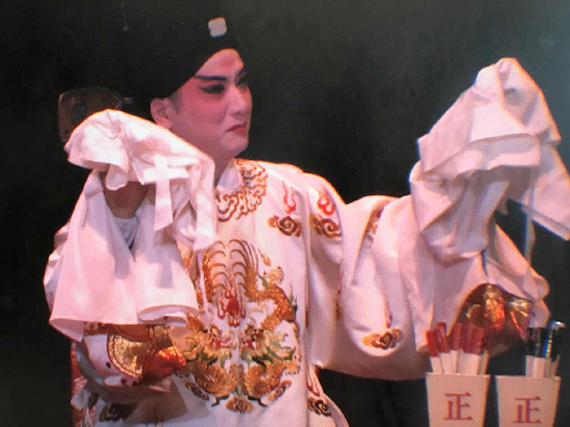 "White Silk Gown" by the Suzhou Kunqu Opera Theater [Photo/CGTN]
Renowned Chinese-American writer Pai Hsien-Yung has been an avid promoter of Kunqu opera for years. He even opened a class at Peking University to pass on his passion for the art form to young students. Lately, Pai has revisited Peking University to bring the re-adaptation of another Kunqu opera classic to the campus.
"White Silk Gown" is the second collaboration between Pai and the Suzhou Kunqu Opera Theater, with the first one being "Peony Pavilion", which turned out to be immensely popular. Pai, 80, hopes the new show will once again rejuvenate young students' interest in the pearl of Chinese operatic art.
"White Silk Gown" was adapted from a Qing dynasty novel and tells of a heart wrenching tragedy. Scholar Xu Jizu becomes an official after taking the country's imperial examination. From a mysterious old woman, he gets a white silk gown, which is a hint of his own fate. At that point, he learns that his real father was killed by a bandit leader who looted his mother thereafter. Then he gets a lawsuit from a guy named Su Yun, who actually is his father and survived the murder and concealed his name for years. And the man Su is suing is the man he has taken as his real father. He abducted him and raised him as his own son. So Xu Jizu then faces the torture between righteousness and his emotional bond towards his "stepfather".
The original version of the opera saw the protagonist sentence his stepfather to death and have him executed. In this new version, the stepfather commits suicide, to highlight the inner struggle of both the protagonist and his "stepfather".
Pai said choosing this piece to be adapted shows modern audiences that Kunqu opera both excels at delivering a love story and a serious theme.
"I've been thinking a college campus tour starting from Peking University is a good way to promote Kunqu opera. I hope 'White Silk Gown' can once again arouse interest from young students just like 'Peony Pavilion'," he explained.
As the oldest form of Chinese folk opera, the 600-year-old Kunqu opera was listed as one of the world's "masterpieces of oral and intangible heritage" by UNESCO in 2001. The art form reached its heyday in the 18th century and then waned to the verge of extinction in recent decades.
For three years following the UNESCO recognition, Pai, a Kunqu opera fan himself, used his personal social relations to enroll talent and raise funds for the making of the new version of "Peony Pavilion". He gathered directors, costume and stage design artists from both the mainland, Taiwan and Hong Kong, to cooperate with the Suzhou Kunqu Opera Theater for the project. He raised some 30 million yuan and put all of it into the creation. The youth version of "Peony Pavilion" debuted in Taiwan in April 2004 to great acclaim from audiences. The show became a hit, being sought after by distributors. But Pai didn't choose commercial performances to enlarge the show's popularity. Rather, he brought it to college campuses, to treat students at low prices.
"I wanted to nurture a large amount of college students, to let them learn about Kunqu, fall in love with Kunqu and be drawn closer to our traditional culture," Pai said.
Since it debuted at Peking University in September 2004, the youth version of "Peony Pavilion" has sailed into more than 30 colleges around the world. It has won over a lot of student fans during the past 13 years.