Get set for movie version of book which inspired popular TV series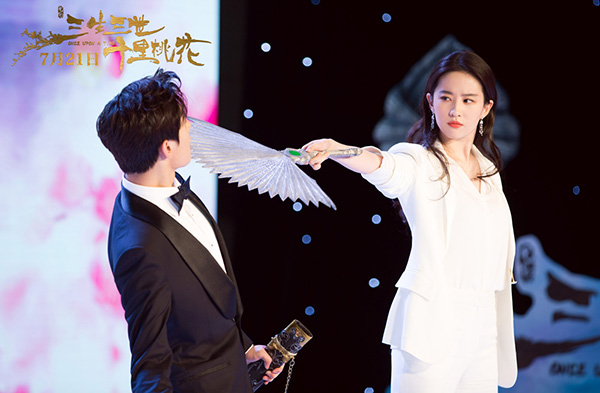 Actress Liu Yifei uses her weapon prop in the film to pose with the actor Yang Yang. [Photo provided to China Daily]
After the popular TV series Eternal Love, adapted from the online novel Three Lives Three Worlds, Ten Miles of Blossoms, a movie adaptation of the same book will hit Chinese theaters in the summer.
The novel is about the bitter-sweet romance between a fox princess and a dragon prince.
The TV series, which was broadcast earlier this year, topped the ratings on TV channels across the country, and saw a record 31 billion online views on five video-streaming sites, including v.qq.com and iqiyi.com.
On Sina Weibo, the Chinese equivalent of Twitter, the TV drama was discussed in more than 10.3 billion posts.
The TV series saw mainland actress Yang Mi and Taiwan actor Mark Chao, respectively, as the fox and the dragon, but their roles will be played by actress Liu Yifei and Yang Yang in the movie.
The movie is jointly directed by the photographer-turned director, Zhao Xiaoding, and Anthony LaMolinara, who won the Oscar best visual effects award for Spider-Man 2 in 2005.
Financed by Alibaba Pictures, the film division of internet giant Alibaba, the movie has up to 2,345 special-effect scenes. The scenes took 50 visual effects animators 15 months of work.
Liu, hailed by fans as a screen "goddess", showcased some of her dialogues with Yang at a Beijing event on Thursday.
The movie will open across the Chinese mainland on July 21.
Liu Yifei alongside Yang Yang promote the forthcoming fantasy romance movie Once Upon A Time. [Photo provided to China Daily]