More fun for monster fans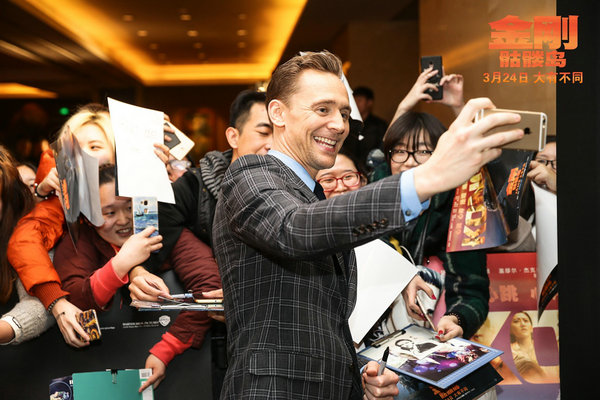 Hiddleston meets fans in Beijing to promote the upcoming fantasy adventure. [Photo provided to China Daily]
To better prepare for his role, the Cambridge-educated actor read
Michael Herr's Dispatches
, a memoir of the US war journalist's time in the Vietnam War, and the survival story depicted in
The Tracke
r by Tom Brown Jr, a renowned American animal tracker and outdoorsman.
He says The Tracker is one of his favorite books because it teaches you "how to live in harmony with nature".
The actor, who's also known for his in-depth art-house films, says: "For as long as we tell stories as a race, we need myths to explore our own humanity. I think the myth of Kong represents that relationship between man and nature.
"The achievements of humanity are remarkable. We have taken ourselves out of the food chain, and we have monopolized this planet in a way that no other species or animals have managed to do."
But he says the negative aspects of human activities, which disrupt the natural balance, are symbolized by Kong as a wild, destructive force.
Larson, who won an Oscar for best actress for Room in 2016, echoes the same point at the event. She says the movie renews the "man-vs-nature" theme in an entertaining, action-packed way.
The 27-year-old talks about acting while imagining the creatures who were not there.
Kong and the other monsters-such as the giant spider, several dinosaur-sized lizards and a huge octopus-were all computer-generated.
Hiddleston, however, did not seem so bothered.