More fun for monster fans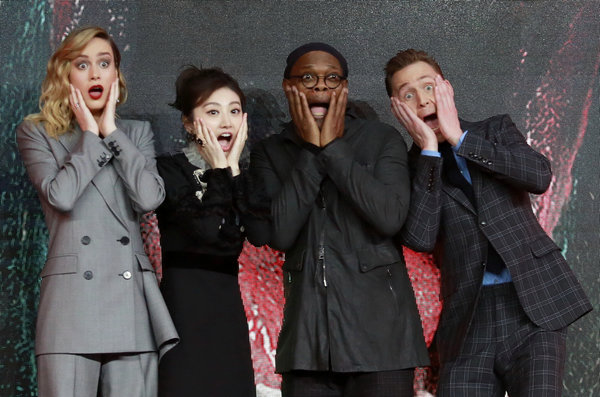 [Photo provided to China Daily]
The timeline moves beyond Peter Jackson's King Kong, which managed a romantic yet tragic twist in the tale involving a blond beauty and Kong in the early 1930s.
The current remake is set in 1973, near the end of the United States' involvement in the Vietnam War.
"I think it's a period of huge social and political change. The world saw some revolutions, which made people suddenly begin to understand political power in a different way," says Hiddleston.
The difference between the Jackson film and the latest one is that while in the Jackson film the US helicopter squadron leader sees killing Kong as a must-do, Hiddleston-as the survival expert-realizes the significance of Kong's existence and teams up with Larson, who plays the war photographer, to protect it.
For Hiddleston, the forest adventure is an evergreen theme for the big screen.
"The story of an uncharted island and the mystery of the unknown is timeless. I think human beings are compelled to tell stories about who they become and the environments which they cannot control," the 36-year-old says.
Speaking about how reading helped him become a better actor, Hiddleston says that from the age of 10 he was bewitched by Shakespeare's classics.