Love of the lute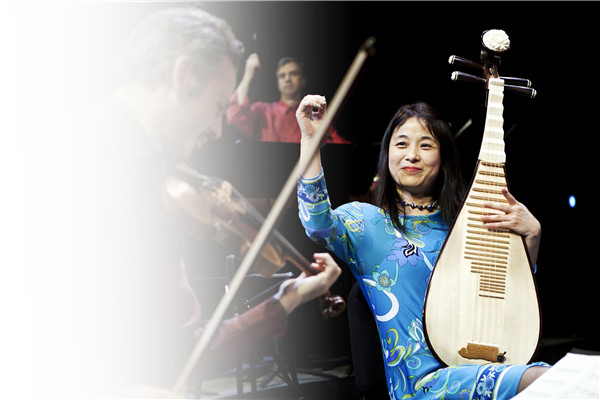 Wu Man performs with the Silk Road Ensemble at the Mondavi Center at the University of California in 2011. [Photo by Max Whittaker/China Daily]
Pipa player Wu Man moved overseas to promote the Chinese instrument. Now, she hopes to do the same in her homeland. Chen Nan reports.
Wu Man is regarded as the ambassador of the Chinese pipa to the West.
The woman born in Hangzhou, Zhejiang's provincial capital, and based in San Diego has performed extensively overseas over the past decades.
She has imbued the 2,000-year-old, four-stringed Chinese lute with a contemporary vim, infusing it into a variety of genres-jazz, rock and electronic music. That's not to mention performing with symphony orchestras, contemporary dance and theater productions.
Her excellence has earned her five Grammy nominations.
Wu says Westerners often ask: "What is Chinese music?" and "What is the pipa?"
"These (initially) seemed to be simple questions, because I've played since childhood. But when I thought about it carefully, I didn't really know the answer," the 53-year-old explains.
She has been working with such musicians as cellist Yo-Yo Ma and American composer Philip Glass. She has recorded for movie soundtracks, including Ang Lee's The Wedding Banquet and DreamWorks' Kung Fu Panda 3.