2017 set to be landmark year for Chinese poetry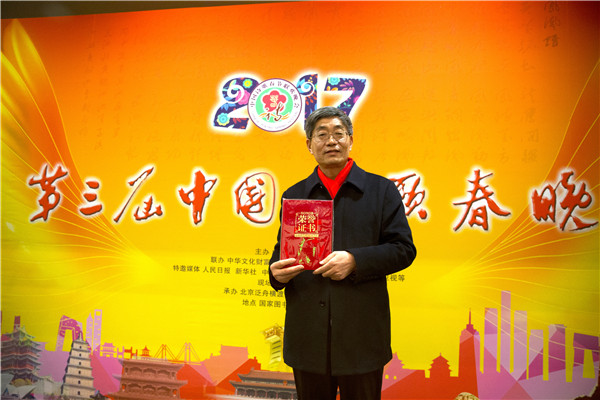 Wang Guoqin gets Creation Award of the Year at the Third Spring Festival Poetry Gala in Beijing on Jan 13. [Photo by Feng Yongbin/China Daily]
Many Chinese poets say that this year will be special for them, a view echoed by Wang Guoqin, a poet and critic who said "poetry is the light ahead in the dark tunnel of my life", after receiving the Creation Award of the Year at the Third Spring Festival Poetry Gala for his book Talking About Poetry From Zhishi Studio.
The gala in Beijing organized over Jan 13-14 by the Qu Yuan Society of China brought together poetry enthusiasts from Beijing, Xi'an, Nanjing, Kaifeng and Shenyang.
Coincidentally, just over 100 years ago, Chinese poetry underwent a drastic change with poetry collections being published in new styles, free in rhythm and lines, com-pared with traditional verses often preset with tones, rhymes and the numbers of characters.
But questions still abound a century later.
At an event in Zhongshan, Guangdong province, on Jan 8 in the presence of guests from the province, Hong Kong, Macao and Taiwan, Qiu Shuhong, whose latest honor is the World Chinese Poetry Award's gold prize, proposed that 2017 be made the Year of Chinese Poetry to celebrate the birth of "new poems".
"Let's ask ourselves: How is new Chinese poetry faring? What is it like today? Where is it heading?"
Some answers can be found in Wang's book, said the honorary president of the Poetry Institute of China, Zheng Bonong, at a Beijing forum the same day.
"The beauty of traditional poetry can't be ignored even in times full of uproar for money and pleasure," he told the forum marking the institute's 30th anniversary, which discussed Wang's book.
Yet the "sophistry" of traditional poems is keeping many young people away.
"Creation is a trend," says Li Baoguo from the institute, adding that "it is sourced from a whole generation".
Wang himself started a new style that combines ancient tones and rhythm with freer lines in 1987. The style, which acquired the name duci in 1990, has followers in many cities.
Wang, deputy publisher of Henan Literature and Arts Press, also established a society for poetry creation and organized four biennial contests. The award winners of the contests over the eight years include Ma Kai, vice-premier and a former state councilor, Lin Feng from Hong Kong and Chen Tingyou from Beijing.
Commenting on the events, Ding Guocheng, deputy editor-in-chief of Chinese Poetry magazine, says: "Such explorations in poetry writing and theory are very valuable.
"The history of poetry is about creation in form and style, and our era has to locate its own pulse for historical distinction that can with-stand the test of time."
Contact the writers through wenjia@chinadaily.com.cn