Tang Shiyi puts ancient poetry in motion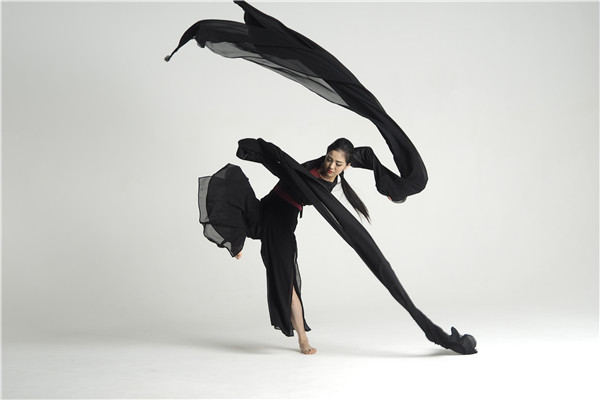 Tang Shiyi showcases shui xiu, or water sleeves, in her latest show The Flowing Dance From Tang Poetry. [Photo provided to China Daily]
She stands still, takes a deep breath, spreads her arms like wings and then thrusts them upwards. She then stares at her long sleeves as they slowly slide down her arms.
She then repeats the move a couple of times and ends with a big smile.
This is Tang Shiyi's masterclass at the China National Opera & Dance Drama Theater, showcasing shui xiu, which means water sleeves in Mandarin. It's one of the most commonly seen elements in traditional Chinese dance.
"Shui xiu is the most attractive part of traditional Chinese dance for me. Dancers do shui xiu to perform various movements, which express the characters' emotions, such as ecstasy, sadness and any intense feeling," says Tang.
Shui xiu is also a crucial element in Tang's latest dance piece, The Flowing Dance From Tang Poetry, which will be staged in Beijing on Dec 31 and Jan 1 at the Tianqiao Performing Arts Center.
The piece, which is produced, choreographed and performed by Tang, was first played at the 18th China Shanghai International Arts Festival in October.
Tang, 26, who graduated from the Beijing Dance Academy, is now the principal dancer of the China National Opera & Dance Drama Theater, and has won many top awards, including two at the Tao Li Cup, the top dance honor for young Chinese professional dancers.
She has also played leading roles in dance dramas, such as Shui Yue Luo Shen in 2011, an adaptation of Ode to the Nymph of The River Luo (Luo Shen) written by the poet Cao Zhi of the Three Kingdoms period (220-280); Confucius (2013), which follows the great Chinese sage traveling to 14 states with his students to spread his ideas; and Zhaojun, based on the story of the legendary Wang Zhaojun, a famous ancient Chinese beauty who volunteers to marry a ruler of a Hun tribe in exchange for friendly relations with the Han Dynasty (206 BC-AD 220).
The Flowing Dance From Tang Poetry is Tang's choreography debut, and combines three classic Chinese poems from the Tang Dynasty (618-907)-Spring, River, Flower, Moon, Night, by poet Zhang Ruoxu; Song of Everlasting Sorrow by poet Bai Juyi; and Sword Dance by poet Du Fu.
The idea of having her own choreographed production came about in 2014 when Tang injured her hip during rehearsal.