Encouraging song provides release from family pressures during Spring Festival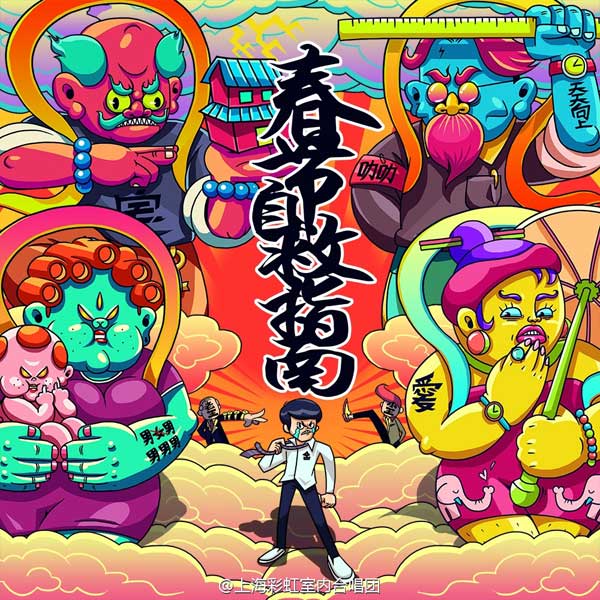 A poster for the song What I Do is for Your Own Good [Photo/Weibo.com]
"Have you gotten married?"
"Have you received a salary raise??"
"Have you bought a house???"
Are you familiar with these questions starting with "have you" and ending in at least one question mark?
If your answer is yes and you are getting sick of answering these questions, you probably have become a member of the "home-fear group".
The "home-fear group" refers to those feeling anxious about returning home during the Spring Festival. They have deep concerns about going back home for such factors as heavy economic pressure, high costs of the festival, the troubles of buying tickets, the long distance of the journey and exposure of private matters relating to family or love life.
Now, a special song has been tailor-made for this group.
After the popularity of the So Far, the Sofa is So Far in the past year, Shanghai Rainbow Indoor Chorus has released another song called What I Do is for Your Own Good on January 17.
The seven-minute song utilizes a choir style and rap. The beginning of the song is sung by the choir, which involves a family scene where a recently returned young adult is asked a series of questions by family members. After the "question attack" from relatives, the young man decides to reflect on his past and also defend himself through rap.
It is worthwhile to note that none of the singers are professionals but actually music-lovers with diverse careers, including programmers, designers and accountants, as well as graduate students in anthropology, chemistry and gourmet food. As it is not a serious song, some funny sounds and postures are added for entertainment.
According to the official weibo account of Shanghai Rainbow Indoor Chorus, this is more than just a funny song, but a useful guide for young people. A careful listen to some of the lyrics will inspire you on how to wisely answer many 'Spring Festival-specific' questions.
"It is a very interesting yet brainwashing song, truly describing the embarrassing situation quite a few young Chinese people have been trapped in," Sina Weibo user Santilin Clouds said.