Julien Gelas: Let sunny melodies blow away the smog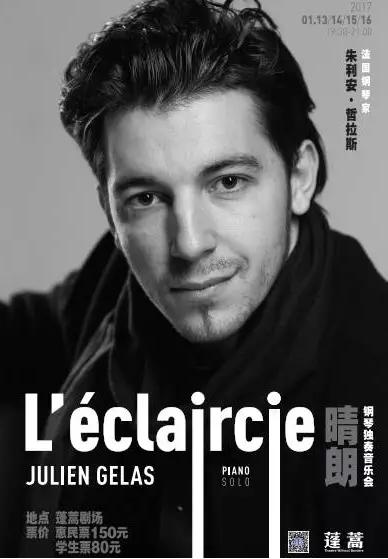 Julien Gelas. [Photo provided to chinadaily.com.cn]
French pianist and composer Julien Gelas brings his music to Chinese audience again. After the recent tour of Qingdao, Shandong province, Gelas will perform in Beijing from Jan 13 to 16.
Combining different genres, including classic music, blues, rock-and-roll and pop, Gelas has created his own unique melodies. The piano keys under his fingers often create an energetic and poetic music wonderland.
The performance in Beijing will feature a series of his freestyle works, such as L'éclaircie, La Fuite and Station Liberty.
Born into a family of artists, Gelas started learning music at 5 and began studying classic music at 11. He has also cooperated on many plays, television shows and films as a drama director. He once wrote music for singers in La voix de la France (French version of The Voice).
His music has impressed Chinese composer Dong Dongdong.
"Gelas' poetic performance reminds me of fragrant lavenders and bright sun flowers in South France. It is full of energy, brightness and vigor," Dong said.
So far, Gelas has given performed in France, Italy, Belgium and Germany.
Playlist of L'éclaircie
1. L'été indien
2. Liberty Station
3. Paris Vagabond
4. Bach un dimanche dé nudé
5. Do Rock Symphony
6. The End of A Day
7. Friendly Welcome to the 21th Century
8. Azon 89
9. Beijing Classical Blues
10. The Glory Here
11. La Fuite
12. L'Arbre Noir
13. Rock until the Dead Night
14. Ciel étoilé
15. A King for A Queen
16. Valse mélancolique (variation)
17. L'éclaircie
If you go
Penghao Theatre, 35 Dongmianhua Hutong, (off Nanluoguxiang), Dongcheng district, Jan 13-16, 7:30 pm-9:00 pm.