Yamada comedy gets a Chinese face-lift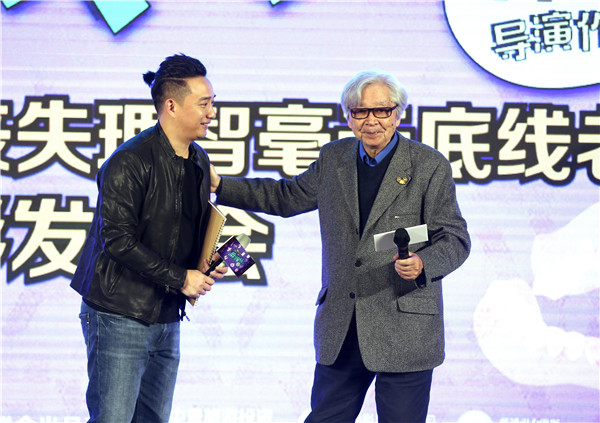 Huang Lei (left) and Japanese director Yoji Yamada attend a Beijing event this month. [Photo by Feng Yongbin/China Daily]
Yoji Yamada has been familiar to Chinese fans for decades, but now the iconic Japanese director will see his latest work introduced to the country in a new way.
What a Wonderful Family, Yamada's 2016 comedy, recently has been remade by Chinese filmmakers and will open at mainland theaters on April 28.
The tale, featuring Yamada's trademark of vividly demonstrating family dynamics, centers on a family with three generations living under the same roof.
When the pensioner grandfather plans to celebrate his 50th marriage anniversary, the grandmother stunningly asks for a divorce.
The sudden chaos is followed by a series of comedic conflicts.
When the 108-minute feature was screened at the 19th Shanghai International Film Festival in June, many local viewers burst into tears and laughter.
The reception impressed Gu Xiaodong, a veteran film producer, who was sitting next to Yamada inside a Shanghai cinema during the festival.
Getting Yamada's permission to remake the film, Gu found Huang Lei, a well-known actor.
Shot to fame by Chen Kaige's 1991 film Life on a String, Huang has starred in a number of hits, such as the recent TV series A Love for Separation, and Midnight Diner, a Chinese remake of the namesake Japanese series.
But the upcoming comedy is his big-screen directorial debut in a career spanning 26 years.
"I never thought I would direct a film, especial a remake of my idol," says Huang.
The film's shooting ended earlier this month.
He says Yamada, known to Chinese for the enduring Tora-san series, is an influential master studied by many Chinese cinema students. The 85-year-old Yamada's drama Nagasaki: Memories of My Son was selected as Japan's submission for foreign-language category for next year's Oscars.
With 48 films produced over nearly 30 years, the Tora-san series is one of the longest franchises in the world's cinematic history. Yamada's The Yellow Handkerchief and A Distant Cry from Spring were among the earliest Japanese films introduced to China since the two countries resumed diplomatic relations in 1972.
But for Huang, the biggest challenge was how to give a fresh tone to the original film.
"I know many people have watched the film (Yamada's Wonderful Family), so the Chinese version will be hard-pressed to provide suspense or a twist," he says.
But the cultural closeness between China and Japan makes Huang believe the film will easily resonate with locals. The remake is a four-generation story set in a hutong (alley) home in Beijing.
In addition to Huang, the cast highlights Taiwan veteran Lee Li-chun and mainland actress Hai Qing.