Year-ender: Top 10 cultural events from 2016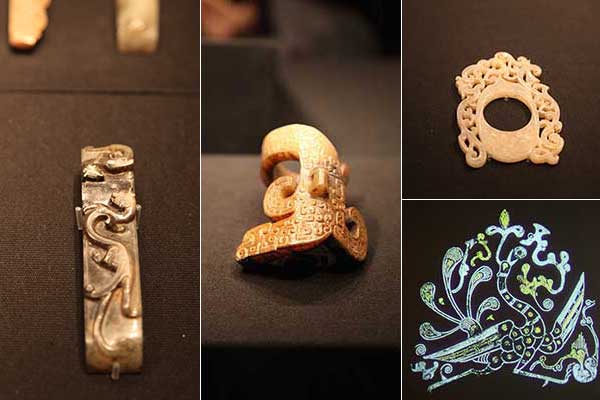 Clockwise from left: A jade jian zhi (scabbard accessory), a coiled jade long (Chinese dragon), a jade pendant and a design from the Western Han Dynasty (206 BC-AD 24) were on display at the Capital Museum in Beijing.[Photo by Lei Xiaojun/China Daily]
9. Identity of Haihun tomb occupant confirmed
The identity of the occupant of the Haihunhou tomb was confirmed in March this year.
Unearthed relics helped to identify that the tomb belonged to Liu He (92 BC-59 BC), who was dethroned after 27 days - the shortest reigning Western Han monarch - because of his debauchery and licentious lifestyle.
The tomb in Nanchang, the capital of Jiangxi province, is the best-preserved cemetery from the Western Han Dynasty (206 BC-AD 24), with the most integrated structure and a distinct layout.
As the excavation of Emperor Liu He's tomb in the Haihunhou mausoleum was completed, archaeological work on his wife's tomb is scheduled to start the first half of next year. It is also said that the construction of a museum on the site of Haihunhou tomb will start in June 2017.
Related:
Identity of ancient royal tomb occupant confirmed