Behind the success of 'Medical Examiner Dr. Qin'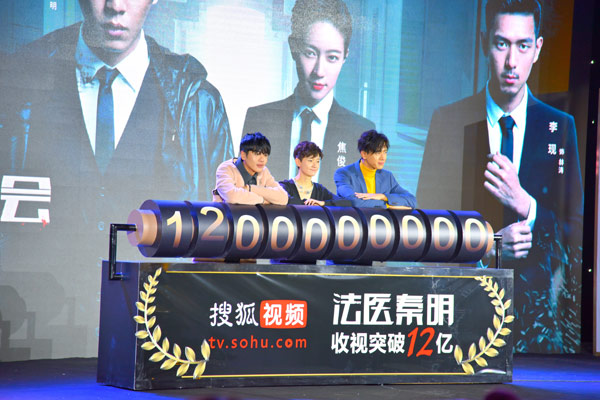 The cast of Medical Examiner Dr. Qin attend a celebration ceremony in Beijing on December 10.[Photo by Zhang Xingjian/chinadaily.com.cn]
This year has witnessed the boom of the Chinese network drama, a new kind of television series only available from online platforms. From the Go Princess Go at the start of 2016 to the latest hit Medical Examiner Dr. Qin (known to fans as simply Dr. Qin), several network dramas have amassed followers nationwide.
The professional drama Dr. Qin has already been viewed more than 1.2 billion times on Sohu TV alone, according to ratings released by Sohu TV on December 10 at a celebration in Beijing.
Since its debut on October 13, Dr. Qin has gone viral, thanks to its bold plots, tense story atmosphere and good-looking performers.
The drama tells short stories based on the daily work of an investigative team including medical examiner Qin Ming, his assistant Li Dabao and police officer Lin Tao. With their thoroughness, persistence and bravery, they manage to solve seemingly impossible criminal cases.
Creative view mode
As a rule, traditional Chinese TV dramas release one or two episodes each day. and the concept of a "season" is not widely accepted by domestic viewers. However, Dr. Qin chooses to upload two episodes each Thursday with Season One only just finished, drawing on the model of western counterparts.
"The audience ratings and reactions to a certain network drama are of significance to the entire production team. We have to grip the attention of the audience for the follow-ups," Dr. Qin scriptwriter Yang Zhe said.
"The drama is adapted from the literary book The Eleventh Finger. We cannot deny the amazing content of the original works. However, reading books and watching TV dramas are totally two different things. Sometimes, we can change some plots to cater to the needs of TV audiences. And this is the amazing point of the network drama," Yang said.
For such a good drama, some viewers just cannot wait to watch the next episode. In order to satisfy those viewers, Sohu TV has set up a golden member system which allows them to watch the stories in advance.
For example, golden members could watch the new Dr. Qin season from December 1, while everyone else will have to wait until December 15 to see the grand finale.
"The member payment system will be the mainstream in the future. Decades ago, it was impossible for Chinese people to pay for TV series, but many people are willing to pay for something they like and the privileged service they obtain," Sohu CEO Zhang Chaoyang said.
Bullet screen, or "Danmu" in Chinese, allows viewers to type comments that zoom across the screen like bullets. [Photo provided to chinadaily.com.cn]
With the help of bullet screen, many TV views can also communicate with others in an efficient and funny manner. Bullet screen, or "Danmu" in Chinese, allows viewers to type comments that zoom across the screen like bullets. It has gained momentum in Chinese social interactions among young people.
"I cannot image watching a TV without the bullet screen, otherwise it would be that boring. And I probably wouldn't watch it until the ending part," Xi Xiaoxin, a Dr. Qin fan, suggested.
Li Xian, who plays a policeman in Dr. Qin is also a fan of the bullet screen.
"I often interact with other viewers through the bullet screen. And I truly long to see others' reactions to the role and to myself, both positive and negative," he said.