Chinese bookstores abroad show pow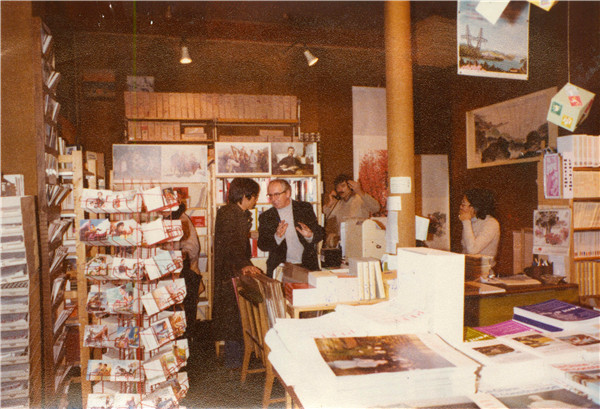 Librairie le Phenix in the 1970s. The bookstore, founded by Regis Bergeron (second from left) in 1965, has survived decades of ups and downs and now offers a glimpse of China in Paris. [Photo provided to China Daily]
A TV documentary sheds light on how far Chinese bookstores abroad have come, Yang Yang reports.
Running a bookstore abroad isn't only about making profit, especially when the books you sell appear foreign to local readers.
In the past few decades, many Chinese bookstores have faced such a situation in the United States, Britain, France, Australia and Japan.
Besides ringing up sales, the outlets have tried to bridge cultural gaps and cross political barriers so readers in different countries can enjoy Chinese books.
Recently, Tianjin TV started to air a 12-episode documentary series titled Overseas Bookstores.
It tells the stories of seven Chinese bookstores in six countries on five continents. It shows how the stores survived difficult times and have contributed to cultural communication between China and the related countries.
During interviews over the past 10 years, producer Yin Chang discovered many expats in China got their initial ideas about the country from Chinese bookstores in their countries.