New Year's is time to rock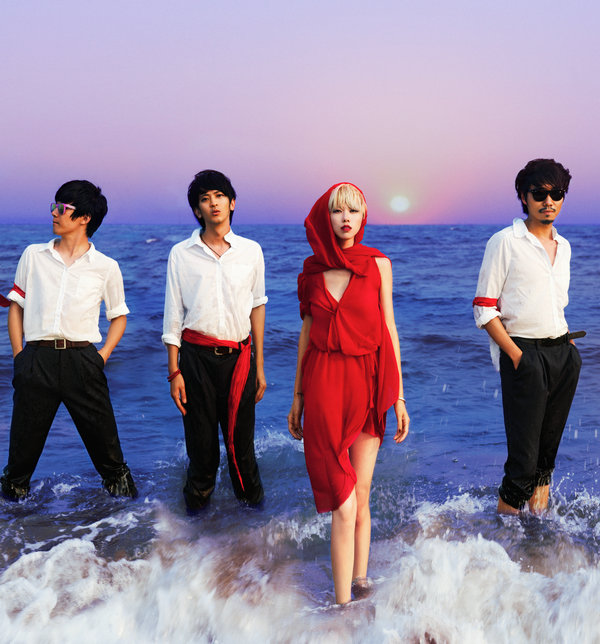 Four members from the indie rock band, Queen Sea Big Shark. [Photo provided to chinadaily.com.cn]
Queen Sea Big Shark, one of Beijing's most popular indie rock bands, will give a show in Beijing on Dec 30 to celebrate the New Year.
Happy Young Friends' Concert will feature four other Beijing-based indie rock bands, including Carsick Cars.
Queen Sea Big Shark released its fourth studio album, Be Wild, in March, after four years.
It mixes hip-hop, rock, and dance music, and was inspired by their travels to such places as India and Mexico, and China's Tibet and Xinjiang Uygur autonomous regions.
The new release's lyrics are all Chinese, while their previous three albums were mostly in English. The band toured over 20 cities across China within two months to promote the album.
Queen Sea Big Shark was founded in Beijing in 2004. The leading female vocalist, Fu Han, who is a graduate of the Central Academy of Fine Arts, was a graphic designer. Guitarist Cao Pu was an architect. Bassist Wang Jinghan worked part-time as a translator.
The band built a following after the release of their self-titled debut album in 2007, the year they supported US indie rock band Yeah Yeah Yeahs at the Modern Sky Music Festival. They're celebrated for their retro-rock style and Fu's commanding stage presence.
If you go:
8 pm, Dec 30. Third floor of Tango Club, 79 Hepingli West Street, Dongcheng district, Beijing. 400-610-3721.