Chinese? It's music to our ears
For students learning Chinese in Africa, a classroom is not the only option. You can listen to Chinese radio programs, read Chinese newspapers, watch Chinese TV and even talk to Chinese people.
Another option is provided by the Confucius Institute at Egerton University, Kenya - singing Chinese songs on stage.
The institute organized a singing competition to allow its students to demonstrate their language skills to mark Confucius Institute Day in late September.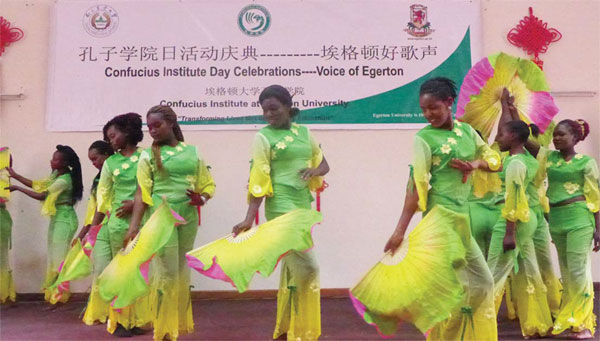 Students of the Confucius Institute at Egerton University sing the Chinese song Jasmine. Yang Zhiguo / For China Daily
More than 20 students took part. After the first round, 13 students entered the final. Chinese teachers on the campus helped to train and encourage the students. Some felt quite comfortable onstage while others were nervous. Contestants introduced themselves in Chinese to a panel of judges.
The contest, lasting around two hours, also featured a dance performance by students and a Chinese general knowledge quiz for the audience. Chinese enterprises sponsored the prizes.
Immaculate Rabera Onkendi, a fourth year engineering student, won first prize with her song Super Star.
"I didn't expect win first place," she says. "It is the first time I have performed in front of so many people. I struggled a lot during preparation as I kept forgetting the words."
She was the last to give her performance on stage, which made her even more nervous.
"I told myself to do my best and not disappoint my instructors. The judges and audience, who applauded and sang with me, gave me great confidence," she says.
Talking about her future, Immaculate says she will continue to study Chinese and make efforts to study in China.
"I wish to further my studies in China and will tell my friends to come to the Confucius Institute, where there are many opportunities to help us to realize our dreams," she says.
The success of the event demonstrates the popularity of the Chinese language and culture among students in Kenya, says Li Yuan, dean of the Confucius Institute at Egerton University.
The Confucius Institute, set up in December 2013, is the result of cooperation between Nanjing Agricultural University in East China's Jiangsu province and Egerton University.
It has five grades of students studying Chinese.
Among them, 18 students have won the Confucius Institute Scholarship to study in China.
panzhongming@chinadaily.com.cn