Palace Museum owns over 1.8m pieces of treasures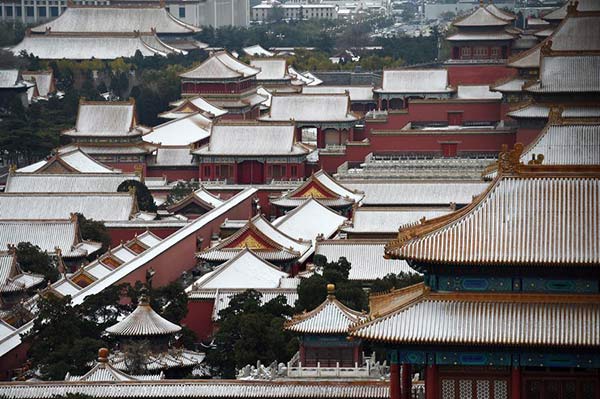 A view of the Palace Museum after the first snow, Nov 21, 2016. [Photo/Xinhua]
How many treasures does the Palace Museum in Beijing own? Does the Palace Museum have 9,999.5 rooms? Shan Jixiang, curator of the museum, revealed the secrets during a speech at Southeast University in Nanjing where he was named a part-time professor on Sunday.
After the ceremony, Shan delivered a speech and revealed several secrets.
1. Is it difficult to become a cultural relic restorer?
After the documentary Masters in the Forbidden City, which profiled the work of the museum's restoration department, became an internet hit, many people got interested in the job of restorer. "The Palace Museum wanted to recruit 60 new employees, while 15,000 people applied for the job. So many people wanted to repair relics in the Palace Museum."
2. How many treasures does the Palace Museum have?
Shan revealed that there are a total of 1,807,558 pieces or sets of treasures in the museum, and each piece has an "identity card" which specifies the historical and artistic value of the piece. Among them, 93.2 percent are national-level relics, 6.4 percent are common relics, and 0.4 percent are reserved materials, so almost all of them are very precious treasures.
Each year, around 10,000 pieces of relics are displayed in over 70 exhibition halls, so most people are not able to view all of them.