Outdoor sculpture exhibition on at Forbidden City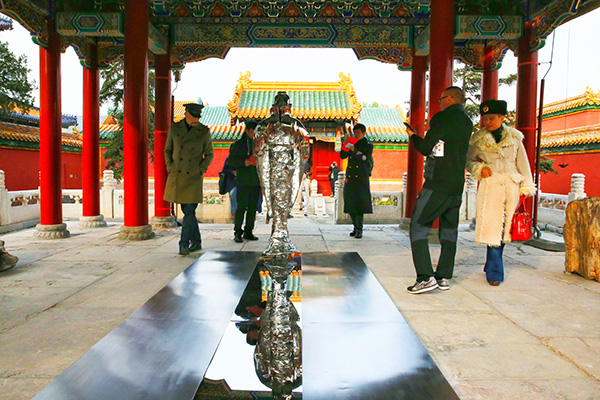 Sculptor Li Xiangqun is displaying his works at the Forbidden City. [Photo by Jiang Dong/China Daily]
Chinese sculptor Li Xiangqun, 55, is showing eight works at the outdoor space of the Garden of Established Happiness (Jianfu Gong), in the Forbidden City, with his exhibition titled
City Vs. Phenomenon
, which runs through Nov 26.
The centerpiece of the show is a white bronze recreation of the Forbidden City, which covers 200 square meters in the garden's courtyard.
Surrounded by red brick walls, yellow roof tiles and green pines, the work invites the audience into a dialogue between the past and the present.
Also being displayed are four lifelike figures of the Four Great Painters of the Yuan Dynasty (1271-1368) in which Li pays a tribute to the spirit of Oriental art. He has donated the four works to the Palace Museum which collects paintings of the four masters.
Li graduated from the sculpture department of the Luxun Fine Art Academy in Shenyang, in Liaoning province, where he now serves as the deputy headmaster.
The exhibition will travel to Shanghai and Germany.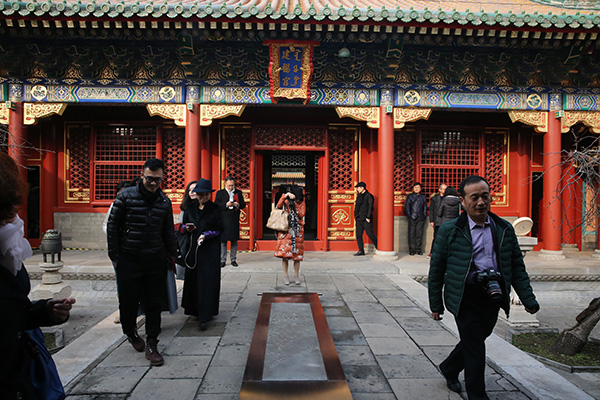 Sculptor Li Xiangqun is displaying his works at the Forbidden City. [Photo by Jiang Dong/China Daily]
Related:
Sculptor makes coal sculpture in Datong, N China