Wooden head sculpture hid rare Ming Dynasty banknote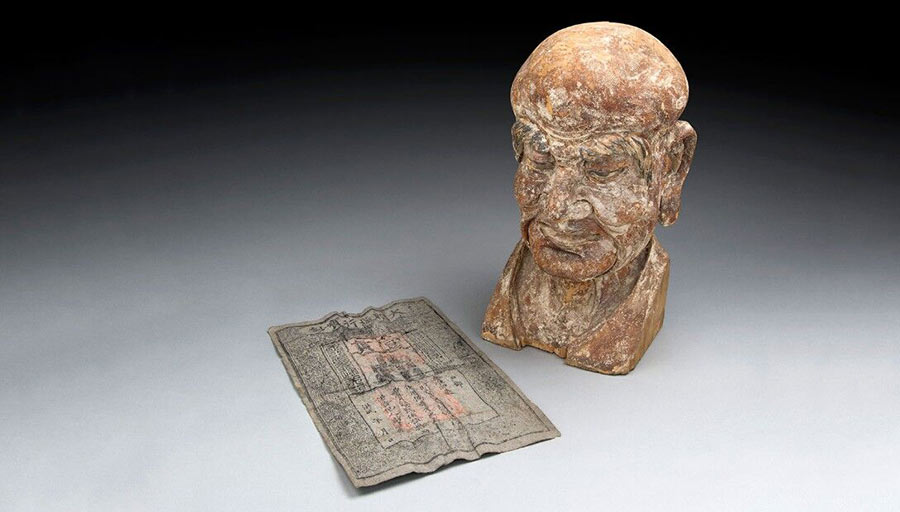 Ming Dynasty banknote (1370) and the wooden head in which it was discovered will be sold in Sydney next month. [Photo/mossgreen.com.au]
A wrinkled banknote dating from the Ming Dynasty (1368-1644) was found hidden in a Chinese wood sculpture from the 13th century by specialists from the Australian auction house Mossgreen, according to Financial Times.
The banknote was issued in 1370, when the first Ming emperor Zhu Yuanzhang was in his third year of reign. The wooden head which the banknote was inserted into was believed to be carved one century before the issuing.
China began to issue banknotes made with mulberry skin as early as the 10th century, and until the late Ming Dynasty banknotes were widely used in place of coins.
The banknote was printed with 10 piles of coins, which signified its value during that time, and was marked with three official red seals. The note was also printed with Chinese characters which warned people to report those who forge money with rewards offered by the official.
Ray Tregaskis, a specialist from Mossgreen, said, "It was a thrilling moment. While it was not unusual for consecration items such as semi-precious stones or scrolls to be left within the base or on the back of a sculpture, the discovery of this rare Ming Dynasty banknote is an exciting one and importantly, it verifies the date of the sculpture."
The banknote is valued at around $2,291-3,818, and it will be sold with the sculpture, with the total value estimated around $30,540-45,810 in Sydney on December 11.