Exhibitions show latest sculpture trends in China, South Korea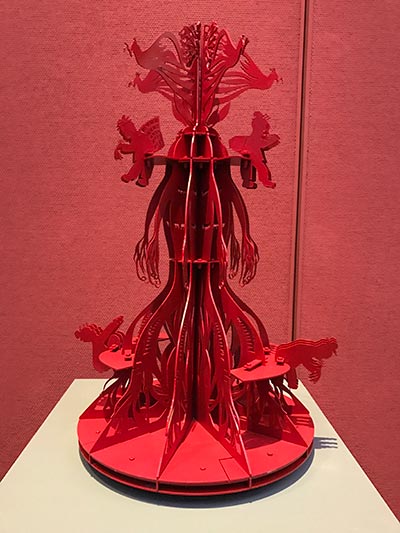 [Photo provided to China Daily]
Two sculpture exhibitions now underway at the Shandong Art Museum, in Ji'nan in East China's Shandong province, showcase the latest trends in sculpture in China and South Korea.
The China Pose and the Sino-South Korean Sculpture Exchange Exhibition, both organized by the Beijing-based China Sculpture Institute, which will run through Nov 16, display dozens of works in which the creators reach out to their cultural traditions and explore modern sculpture from an Oriental perspective.
Feng Yuan, vice chairman of the China Federation of Literary and Art Circles, said at the opening ceremony of the exhibitions on Oct 18 that Chinese sculpture had witnessed a lot of growth recently, with many exhibition and works installed in public places, and that it was now time to focus on works that represent Chinese culture.
Zeng Chenggang, the head of the China Sculpture Institute, says China Pose, which was launched in 2008 and is held biennially, looks at modern Chinese sculpture. He says that the works on display show new techniques and concepts as a younger generation of artists demonstrate their potential.
Related:
Li Baolin's ink works on show in Beijing