Knowing cultural differences helps Internet companies: APUS CEO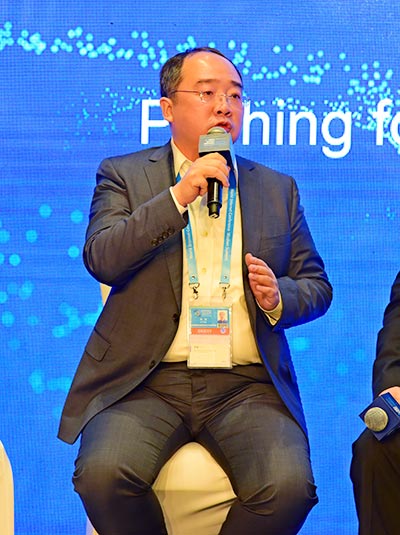 Li Tao, CEO of mobile internet company APUS, delivers a speech during the Internet Culture Forum at the third World Internet Conference in Wuzhen on Nov 17. [Photo by Zhang Xingjian/China Daily]
As an increasing number of big Chinese internet companies are focusing on the overseas markets, APUS CEO Li Tao reminded us that learning each other's culture is important for internet companies to win recognition of target users.
Li, the former vice president of Qihoo 360, started his own company two years ago with a smartphone user system called APUS launcher. Its users exceeded 1 million within a week, and as of today, the number has exceeded a billion. This makes APUS the fastest-growing mobile internet company in the world.
The company is fully focused on markets outside of China, with the majority of users based in emerging markets and regions.
We caught Li for a brief conversation after he attended the Internet Culture Forum during the ongoing third World Internet Conference.
Today's panel discussion is about "mutual-learning among civilizations and development of internet culture". How did that benefit you as an entrepreneur of a fast-growing internet company?
Li: It's been a very rewarding afternoon. Today's forum made me believe that China's internet has taken a big step forward.
When we used to talk about internet, we talked about users, traffic and income. Today, almost every participant and speaker is talking about culture, rule of law, globalization and promoting Chinese culture abroad.
Because our operations are global, such discussion is very beneficial for us. It is also helpful for Chinese internet companies and Chinese culture to go global.
You have been an expert with overseas market development. During the process, did you encounter many challenges from cultural differences?
Li: Absolutely! There are many challenges regarding to this. Take a small example: we (Chinese) read from left to right, but the Arabic language reads from right to left.
When doing business in India, you will see that Indians love music and dance so much that it's probably one of the most important parts of their life. However, traditional music and dance are not as important in the life of Chinese people. When you land in a new country, you have to think how you can combine these differences to better adapt to the local market.
Chinese culture is very inclusive. We have traditional Chinese Spring Festival and we also accept Christmas. However, we don't try to introduce all traditional Chinese festivals to foreign users, such as the Jews, Muslims and Indians, because they have their own religion. When you step onto a new country, you have to respect that. Only by doing so, you can win recognition of local users.
You seemed quite interested as some other speakers were sharing their views during the panel discussion. Was there anyone or anything that especially impressed you?
Li: I was quite impressed by Xiao Hong (CEO of Perfect World). I have always known Perfect World as a game developer, and today I learned that they are also doing film and TV. He also mentioned globalization, and I was pleasantly surprised, because Perfect World is a local company, and a very successful local company.
Special: The third Wuzhen Internet Conference: Cultural Forum