Lao She's novel 'Mr Ma and Son' adapted into a theater play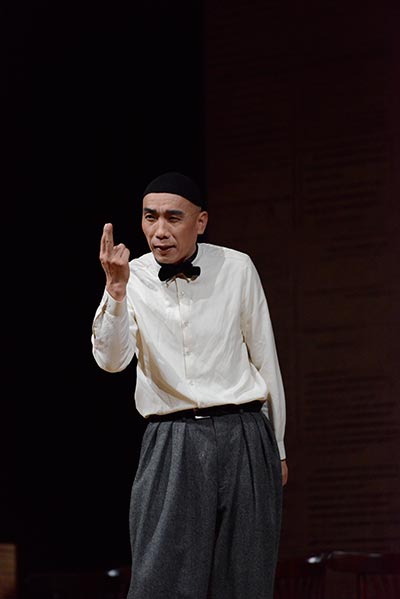 A scene from Mr Ma and Son. [Photo provided to China Daily]
After its debut in Beijing, the play
Mr Ma and Son
will be staged in Shanghai on Dec 2 and 3.
Based on one of China's most significant writers, Lao She's novel with the same title, the play is directed, adapted and performed by veteran Chinese actor Fang Xu, who is a loyal fan of Lao She (1899-1966).
Mr Ma and Son draws largely on Lao She's own experience when he taught Mandarin at the University of London from 1924 to 1929. The novel gives a unique view of what life was like for Chinese people in 1920s London by telling the story of Mr Ma and his son Ma Wei, who run an antiques shop in a quiet street by St Paul's Cathedral. Far from their native Beijing, they struggle to adapt into the Western society of the 1920s. The father and son also experience unexpected love affairs with their landlord Mrs Wedderburn and her daughter Mary.
Lao She is known for his style grounded in the dialect and culture of old Beijing. His best-known works, such as Teahouse and Rickshaw Boy, have been adapted into movies, TV series and plays in China.
Mr Ma and Son was adapted into a TV drama in 1999, starring renowned Chinese actors Chen Daoming and Liang Guanhua. The novel was published in English by Penguin Classics in 2013.
The cast members of the play are all male actors, including Fang as Mr Ma and Liu Xinran, a Peking Opera actor known for nan dan (men playing women's roles), as Mrs Wedderburn.
The stage is dominated by a huge newspaper, which the director says is a symbol of London in the 1920s. A band performs live onstage, which according to Fang, functioning as a character in the play.
The 50-year-old Fang graduated from the directing department of the Central Academy of Drama. A Beijing native who spent his youth in a courtyard of a hutong area, he feels connected to Lao She's stories.
"The characters in his works remind me of my neighbors in the hutong when I was a child. They are so ordinary, vivid and real — fascinating to me," he said in an early interview.
In 2012, he performed in one of acclaimed director Lin Zhaohua's plays, Five Acts of Life. It was a combination of five short stories by Lao She and depicted both the tragedy and comedy in ordinary people's lives in early 1900s Beijing.
The same year, Fang started his own adaptation of Lao She's works. His first attempt, a one-man show version of The Life of Mine, tells the sad story of a low-ranking policeman in Beijing in the early 20th century. It was a big success when it premiered at the theater of the Central Academy of Drama.
If you go:
7:15 pm, Dec 2 and 3. Shanghai Oriental Art Center, 425 Dingxiang Road, Shanghai, 400-610-3721.