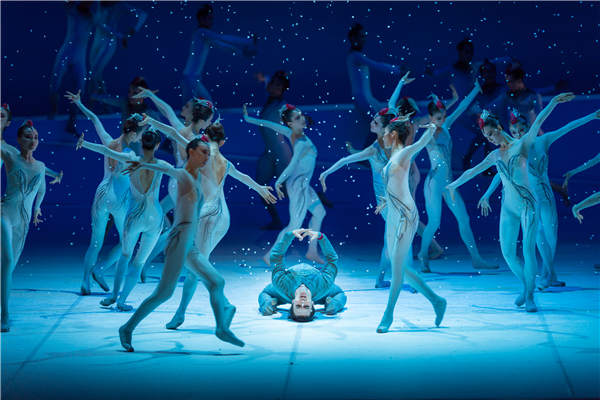 Dancers from the National Ballet of China present Soul of Crane, an original ballet piece at the ongoing China Art Festival. Photos provided to China Daily
Xi'an, once the country's capital, and the starting point of the ancient Silk Road, is holding the country's largest celebration of art - the China Art Festival.
Through Oct 31, a variety of performances selected from over 30 regions across China, including acrobatics, dramas, Peking Opera shows, and dances, exhibitions of paintings, sculptures and photos, art competitions and conventions, are being held in Xi'an, in Northwest China's Shaanxi province.
Over 50 works will compete for the Wenhua Awards, which the Ministry of Culture established in 1991 to honor outstanding stage performances.
Also, 84 works have entered the final round of the competition to win the Qunxing Award, which the Ministry of Culture grants as the top prize for amateur artistic works. These two awards will be announced at the end of the 11th China Art Festival.
Founded in 1987, the event has been held every three years across China, including in Beijing and in the provinces of Yunnan, Sichuan and Shandong.
In October 2014, President Xi Jinping delivered a speech in Beijing, telling artists that they should not pursue commercial success at the expense of producing works with artistic and moral values.
Xi also urged artists to create more works that are both artistically outstanding and morally inspiring, in order to serve the people and socialism and to present socialist core values.