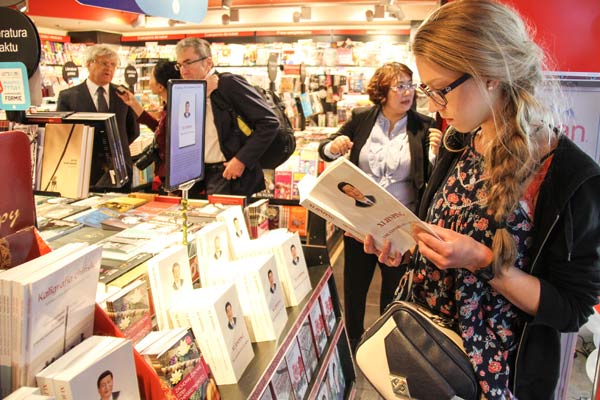 A visitor at a book fair in Chopin International Airport in Warsaw, Poland. [Photo by Chen Xu/Xinhua]
Bookstores across Poland are jointly taking part in a month-long book fair to promote literature on ancient and modern China.
A launch ceremony for the event was held in Chopin International Airport in Warsaw, the country's capital, on Tuesday.
Among the 100 volumes on display at the fair are ones featuring information on China's history and cultural heritage, as well as others outlining the country's development and achievements in modern times.
About 100 bookstores across nine Polish cities are taking part in the fair, which is organized by China's State Council Information Office.
Many of the works featured are in English, but there will also be 20 titles in Polish on display. These will help people get a better understanding of China, especially its modern politics, economy and culture, said Guo Weimin, vice-minister of the State Council Information Office.
A new Polish edition of the already popular "Using the Wisdom of Chinese Medicine to Stay Healthy" will be released during the book fair, with copies given away as gifts to people visiting participating book stores.
The fair is being held in advance of President Xi Jinping's first state visit to Poland. Guo said books are the best media to connect with people's hearts and minds and promote cultural exchanges.
Xi will pay state visits to Serbia, Poland and Uzbekistan from June 17 to 22, the Foreign Ministry announced on Monday. Xi will also attend the 16th meeting of the Council of Heads of State of the Shanghai Cooperation Organization in Tashkent, Uzbekistan on June 23 and 24.
Also on Tuesday, a library of books on China was established in the Warsaw School of Social Sciences and Humanities. China has already provided the library with more than 200 kinds of books and will give 300 books annually in the next five years.
Guo said he hopes the library can serve as a window on China and a resource for scholars to study China and Chinese.