German linguist says China goes beyond Babel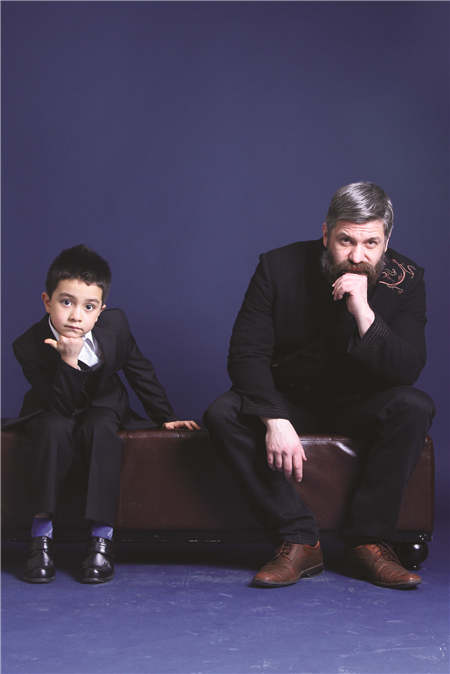 Patrick Kuehnel and his son pose for a family portrait. The German scholar has kept close ties with China, particularly after he married a Chinese woman and started a family about a decade ago. Photos provided to China Daily
German linguist Patrick Kuehnel says he is impressed with China's efforts in boosting cross-cultural links with the rest of the world. Liu Xiangrui reports.
German linguist Patrick Kuehnel was first drawn to China by its exoticism and language, he says.
As an exchange scholar sponsored by the German Academic Exchange Service, Kuehnel, 46, has been teaching linguistic and cultural communication at Beijing Foreign Studies University since 2010, and he was appointed as a guest professor by the university in 2013.
"Know how we make sense of the world and understand each other" is his mantra for cognition and languages.
"Learning a new language is like learning a new instrument. You open up new horizons to express yourself and you start having ideas that you never dreamed of," Kuehnel tells China Daily in a recent interview.
Fluent in several foreign languages, Kuehnel says he has also developed a "Chinese personality" that pops up whenever he speaks Chinese. For example, he likes to discuss various subjects, including linguistics in conversations with people, and above all, he enjoys theorizing. But when speaking to Chinese, he is more practical and humorous, he says.
"Some of my Chinese friends and even my wife were shocked when they learned about the topics I like to discuss with my non-Chinese friends. It is a bit like Dr Jekyll and Mr Hyde," he says, alluding to late Scottish author R.L. Stevenson's famous character with a dual personality.
Kuehnel says it was natural for him to look for languages that are highly expressive, sophisticated and exotic-all at once.
"You actually are becoming a different person by studying a different language," he says.
Starting with Arabic and Turkish as a schoolboy and a part of college, he became courageous enough later to try Chinese-considered completely out of reach for Europeans as a language, owing to its "strangeness", he says.