One man keeping traditional festoon-making alive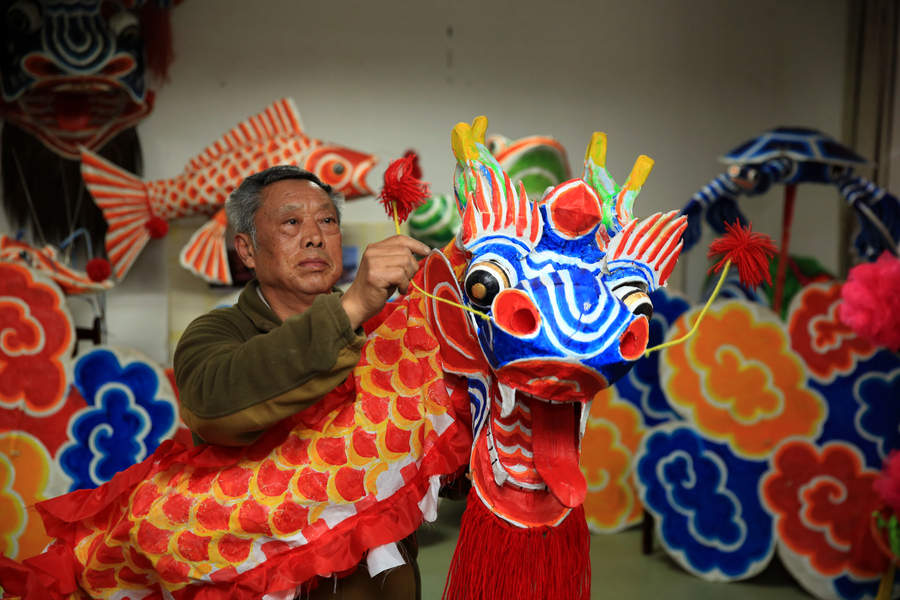 Tang puts the finishing touches on a dragon-shaped festoon in Pianyan ancient town, Beibei district, Chongqing municipality, Feb 18, 2017. [Photo/VCG]
The art of making Tangshan festoon has a rich historic and cultural significance dating back to the Qianlong period of Qing Dynasty (1644–1912) in 1755. The ancient technique combines craftsmanship, painting and calligraphy which has its origins in religion, and integrates local folk custom. In 2011, festoon-making was listed as a city level intangible cultural heritage.
Tang Qiantai is a fourth generation festoon maker. As young people are not keen to learn the art and it makes little money, it is 74-year-old Tang's passion for the handicraft that keeps it alive. Each step of the process is done by hand, from making the skeleton, tying up bamboo strips, starching, pasting paper to painting the colorful patterns.
Tang Qiantai prefers bright animal-shaped festoons like lions and dragons.