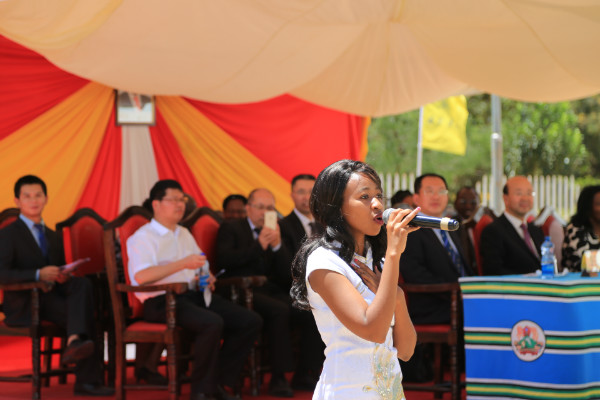 A Kenyatta University student sings a Chinese song to celebrate the ceremony. [Photo by Hou Liqiang/chinadaily.com.cn]
Work started on the China-backed International Language and Culture Center at Kenya's Kenyatta University on Tuesday in Nairobi. The center is aimed at enhancing the Sino-Kenya relationship and will strengthen the university's language research ability and collaboration with other institutes.
Liu Xianfa, Chinese ambassador to Kenya and Olive Mugenda, vice chancellor of Kenyatta University, participated in the ground-breaking ceremony.
The center will house the Confucius Institute, the Institute of Africa Studies, local and foreign language laboratories and international cultural center. Funded by interest-free credit from Chinese government, the center will cost 1.2 billion Kenya Shillings ($1.18 million),according to Mugenda.
Liu Xianfa said the center "will surely become another example of our solid and deep friendship" between China and Kenya.
Referring to the center as a "happy bond" at Kenyatta University between the two countries, he said the center will "help the Kenyan youth get to know every aspect of the Chinese society through learning the Chinese language" and "facilitate the Chinese people to understand Kenya more so as to promote in-depth communication between the two countries".
Mugenda said: "Once complete, Kenyatta University International Language and Cultural Center will expand and combine teaching and testing of different languages with research and professional service provision, including the accreditation and translation. "