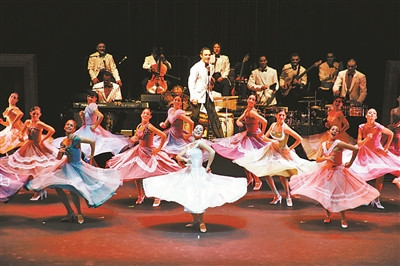 Liszt Alfonso Dance Cuba performs on the stage. [Photo/ccdy.cn]
As the biggest-ever all-year-round cultural exchange program between China and Latin America, 2016 China-Latin America Cultural Exchange Year, under the framework of CELAC-China Forum, will host a wide variety of cultural activities to introduce the peaceful principles of China to the locals, promote Chinese and Latin America culture, advance mutual friendship and understanding, and push forward the bilateral cooperation to a new height.
Lang Lang, a famous Chinese pianist, will participate in the publicity and promotion for 2016 Latin America-China Year of Cultural Exchange. He will tour six countries in Latin America, including Chile and Argentina, in August as well as give lectures to youth there who are interested in piano and traditional Chinese culture.
With the theme of "Bringing In" and "Going Out", the festival involves nearly 30 Latin America and Caribbean countries. Hundreds of activities, such as performances, exhibitions, movie screenings, tourism promotions and literary events, will be held to enhance the understanding and friendship between Chinese and Latin American people. This also will be done through exchanges in the fields of literature, art, historical heritage, films, books, media and travel.
China-Latin America and Caribbean 2016 Year of Culture Exchange has been divided into five parts, including opening ceremony, closing ceremony and mass communication.
Countries Involved
Chile, Colombia, Peru, Costa Rica, Cuba, Ecuador, Venezuela, Mexico, Panama, Dominican, Honduras, Republic of Trinidad and Tobago, Grenada, Barbados, Antigua and Barbuda, Uruguay, Argentina, Brazil, Bolivia, Bahamas, Guyana, Jamaica.