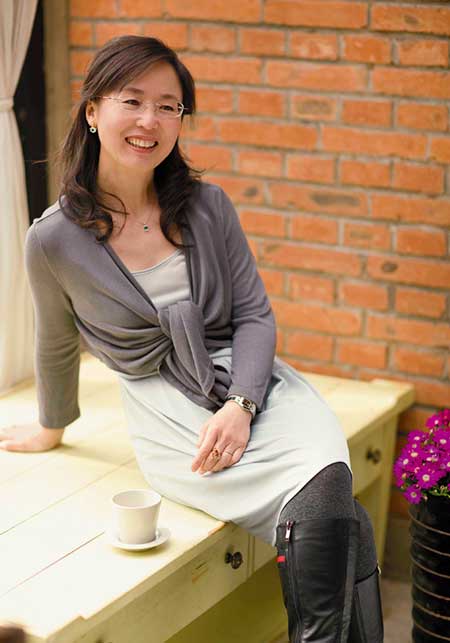 Yin Jianli releases a new book, Best Education Is the Simplest, a follow-up of her best-selling A Good Mom Is Better Than a Good Teacher. [Photo provided to China Daily]
IT Popular author and mom continues her laid-back child-raising advice in a new book. Liu Zhihua listens as Yin Jianli discusses her non-traditional outlook.
Since she published her best-selling A Good Mom Is Better Than a Good Teacher on child-rearing five years ago, Yin Jianli has often been asked by her readers when she was going to come up with a second book.
The self-employed family education researcher, 50, has finally done so. Her new book, a follow-up to the first, is titled Best Education Is the Simplest.
While her first book was based on her experience in bringing up her own daughter, who recently finished college, the new book presents case studies of other parents, with commentary and guidance.
Yin's first book, released by the Writers Publishing House in January 2009, was an unexpected hit. The book has stayed on the bestsellers list since its publication, selling about 6 million copies, at a time when many books manage to sell only a few thousand copies at best.
On Dangdang.com, one of China's biggest online shopping websites, the book received 400,000 favorable comments, and lots of readers bought multiple copies to give as presents to friends, according to Kan Min, vice-president of the website.
The debut book has pushed Yin twice onto the Chinese Writers' Rich List, with 4.48 million yuan ($710,000) in 2010, and 2.65 million in 2012.
The child-rearing book emphasizes the importance of family education, and advocates revolutionary child-rearing principles, such as listening to children to let them grow without undue interference. Most traditional family education books in China have focused on how to make children behave and get them into elite schools.
"I wanted to tell parents, they are closest to their children, and should take the lead in their education, not the school teachers," Yin says at a book signing event on Aug 21 for her second book at Beijing Dongcheng District Library. Yin wrote the book, she says, because she found there were many problems that parents encountered which she did not discuss in her first book.
She was also inspired by receiving more than 100 e-mails every day since 2009, from desperate parents describing their troubles in raising a child who sought her advice.
The case studies discussed in Best Education Is the Simplest, also published by the Writers Publishing House, are very typical among Chinese families, Yin says.