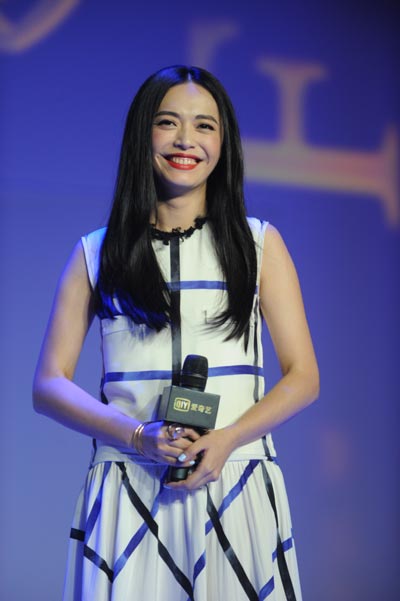 Chinese actress Yao Chen attends a press conference where iQiyi.com announced the launch of its movie production company on July 17, 2014. Photo provided to chinadaily.com.cn
One of China's leading video websites, iQiyi.com, launched its own movie production company on Thursday, aiming to become a player in the country's
film
industry.
No specific projects were revealed during the launching ceremony, which was attended by prominent industry figures such as the heads of Wanda Culture Industry Group and Enlight Pictures, Hong Kong director Teddy Chan and film star Yao Chen. Li Yansong, the former director of iQiyi's Internet value-added services who will head the company's movie section, said the new company would produce eight films in the next year — seven domestic productions and one Hollywood collaboration.
The company has already gone a long way toward its ambition of making its own films. In 2013, iQiyi launched what it claimed was the country's first high-definition Internet-based cinema. In March of this year, they put forward an Internet Big Movie project, after an inside survey that showed the online audience has a noticeable preference for traditional-length feature films over so-called micro movies — short videos that video websites normally produce for the online movie market.
Based on its own online cinema, which has contributed significantly to increasing the number of the website's paid users, the project is intended as a fundraising channel and a growth platform for young directors. It raises money for talented directors to try their ideas and hone their skills online in the hope of eventually finding a place in cinemas.
During the Shanghai International Film Festival in June, the website created an online film exhibition as a model the company hopes to apply in collaboration with the world's top film events, such as the Venice and Cannes international film festivals.