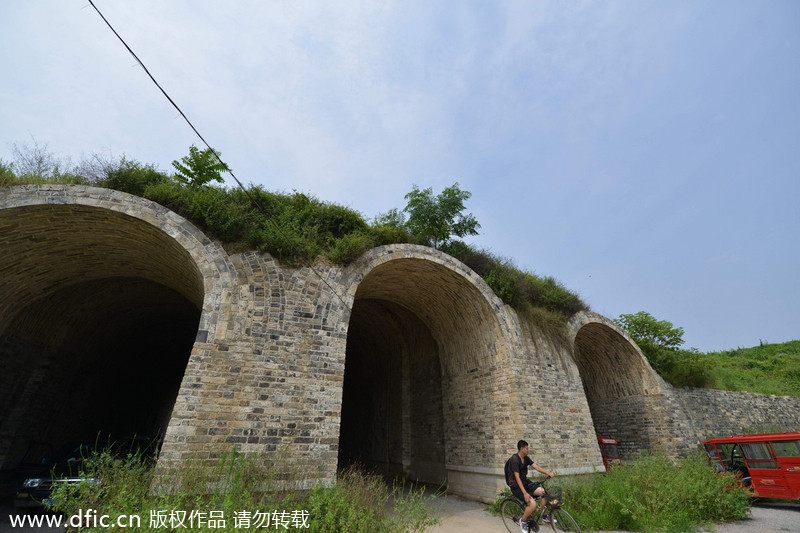 A young man rides past the Meridian Gate of the Mingzhongdu imperial city in Fengyang county, Anhui province, on July 13. [Photo/IC]
Eight cultural sites across six provinces, including Jiangsu, Hubei, Anhui and Zhejiang, have been jointly put forth for UNESCO World Heritage status for their ancient city walls from the Ming and Qing dynasties.
The imperial city wall in Mingzhongdu in Fengyang county, Anhui province, which was once famous as the "Oriental Babylon", is among the applicants.
In 2006, ancient city walls in Nanjing, Jiangsu province, and Xi'an, Shaanxi province, as well as Jingzhou, Hubei province, and Xingcheng, Liaoning province, were first included on the tentative applications for World Heritage designation. Three years later, the ancient city walls in Xiangyang, Hubei province, and Linhai, Zhejiang province, joined the application process.
In 2012, the Mingzhongdu city wall and Shou county city wall in Anhui province were included on the application "Chinese Ming and Qing dynasties city walls". Now, all eight historical sites are seeking approval for World Heritage status.
The Mingzhongdu imperial city, as a masterpiece of Chinese historical architecture, was founded by the Emperor Zhu Yuanzhang of the Ming Dynasty (1368-1644) in 1369, but was abandoned six years later. After 600 years of turbulent history, only some relics and the ancient city wall remained.