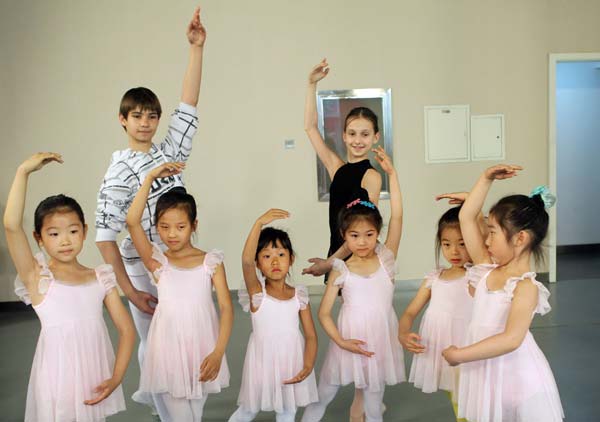 Girls follow demonstrations by Albert Diep and Anastasia Milyachenko from the Ukrainian National Children's Ballet. [Photo by Zou Hong/China Daily]
Girls aged 3 to 10 clad in pink leotards and pointe shoes pull themselves up as straight as they can in a bright dance studio lined with mirrors.
They're following demonstrations by 15-year-old Albert Diep and 13-year-old Anastasia Milyachenko, both from the Ukrainian National Children's Ballet.
Their teacher, Natalia Rzhevska, walks among them, raising their heads and adjusting the curves of their arms.
"I didn't expect Chinese children to be learning ballet at such a young age. They are thrilled at what they saw. They are aspiring dancers," Rzhevska says.
"So much of our career in this business has been judged by critics, who comment on how well or badly you perform. But, for children, they just dance and enjoy the moment without any distraction. I think that is what we should dance for."
Rzhevska, who is director of the Ukrainian National Children's Ballet which she founded in 1982, has been taken more than 30 child dancers to perform in over 50 Chinese cities over the past five years.
During their monthlong 2014 tour, the troupe will perform two classical ballet pieces - Snow White and the Seven Dwarfs and The Little Mermaid - as well as giving workshops and master classes for audiences, especially young Chinese ballet students.
Beijing-based dance critic Ou Jianping, who's also the China National Arts Academy's Dance Research Institute director, says: "Many famous ballet companies come to perform in China every year. But it's rare to see a children's ballet troupe. It offers us a good opportunity to see what ballet education is in Ukraine and how it has influenced children."
In 2004, Ou was invited to be one of the judges of the Youth International Ballet Competition in Kharkiv. The contestants impressed him.