"Partially due to their successful advertising campaign and mature cultural industry in developing popular souvenirs, tourists have an impression that their collection outstrips ours, but the truth is many visitors to our museum are attracted by the splendid architecture and don't pay enough attention to exhibits in the halls alongside both wings of the palace."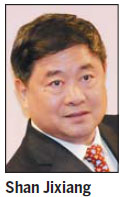 Nevertheless, Shan conceded that Taipei is better in certain types of cultural relics, including Siku Quanshu, or Complete Library in Four Sections, the largest collection of books in Chinese history.
"Our collections share the same roots and are important complements of each other," he added.
"Curators of the two palace museums have been on exchange visits," Shan said. He was glad to see more frequent academic communication has been scheduled. "Both museums are endeavoring to protect treasures and mix respective collections into ordinary people's cultural life.
"It's a pity is that collections of the National Palace Museum in Taipei are still not allowed on the mainland."
Related:
Palace Museum outlines its steps to preserve site
China's Palace Museum collects 1.8 mln items
Service improved at the Palace Museum