Chinese tourists have long said that the best cultural relics from Beijing's Forbidden City are in Taiwan.
However, the director of the Palace Museum in Beijing believes that is a common misunderstanding.
"The Palace Museum is the world's biggest reserve of art from ancient China, and the abundant royal collections also make it a condensed showcase of Chinese history," said Shan Jixiang.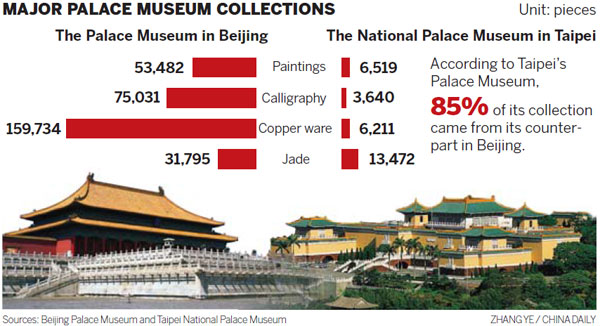 Among the museum's 1.8 million cultural relics, 93.2 percent are considered "precious", he said.
The Forbidden City in Beijing, built in 1420, is also the world's largest palace complex.
In the 1930s, nearly 13,500 boxes of cultural relics were moved to the south and then southwest to evade Japanese forces. After World War II, the outbreak of the civil war prevented many of the boxes being returned to the palace. When the Kuomintang left the mainland for Taiwan in 1949, three navy ships carried nearly 600,000 cultural relics, most of which were books and documents.
Many of those relics are now on display in the National Palace Museum, which was established in Taipei in 1965. The museum says 85 percent of its collection came from the Forbidden City. "They left so urgently, they had no time to select the so-called most precious items," Shan said.
Related:
Palace Museum outlines its steps to preserve site
China's Palace Museum collects 1.8 mln items
Service improved at the Palace Museum