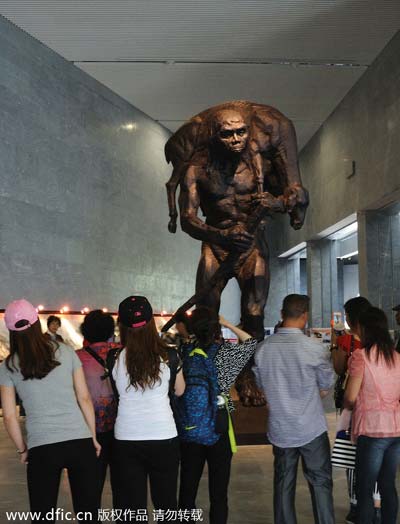 A Peking Man statue returning from hunting is on display at the new Zhoukoudian Peking Man Relics Museum in Beijing on Sunday. [Photo/IC]
The new location for the Zhoukoudian Peking Man Relics Museum opened to the public on Sunday which marked International Museum Day, and features 1,600 items of relics on display, the Beijing News reported.
Zhoukoudian Peking Man Site located some 50km southwest of Beijing, is where the Peking Man lived about half a million years ago.
The new museum, situated about one kilometer from the older museum, covers an area of more than 8,000 square meters, eight times the size of its first location.
The new museum has more than 1,600 relics, compared with the 500 pieces from the old one, and the added items are mainly stone tools the Peking Man used.