Film heroes descend on Beijing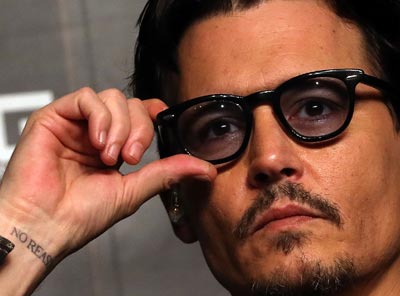 Johnny Depp promotes his new movie Transcendence in Beijing.
When the first Amazing Spider-Man premiered in China in 2012, the stars did only a video interview with the journalists in China.
"The value of coming to a territory and sitting with people who actually live there and work there is a show of our respect," says Avi Arad, the film's producer.
"We don't just assume people in China are going to come to the movie, we are going to come to you, show you some of it, tell you why we think it is great."
Co-producer Matt Tolmach put it in a more straightforward manner. "Superhero films have done very well in China, especially the Spider-Man series," he says.
"It's a big market with huge growth, and Hollywood pays attention to areas where business is obviously growing."
China, as Tolmach points out, has become the highest-grossing market for many Hollywood films. In 2013 Pacific Rim even yielded more in China than in the United States.
Box office revenue reached 20 billion yuan ($3.2 billion) last year, and every day about 10 screens were built in China.
In addition, imported films now enjoy more share from box-office takings, a rise to 25 percent from 17 percent before 2012. In the same year, the number of imported films allowed in theaters has also increased from 20 to 34.
Challenges in this tempting market are as obvious as the opportunities. China allows only two State-owned companies, China Film and Huaxia Films, to distribute imported films. The studios could only assist. Some say the rise of domestic Chinese films in recent years has become a threat to imported films.
"I hope that someday soon we will be able to have more films shown here, that there won't be a filter for entertainment," says Scarlett Johansson. "I am sure people of China hope that as well."