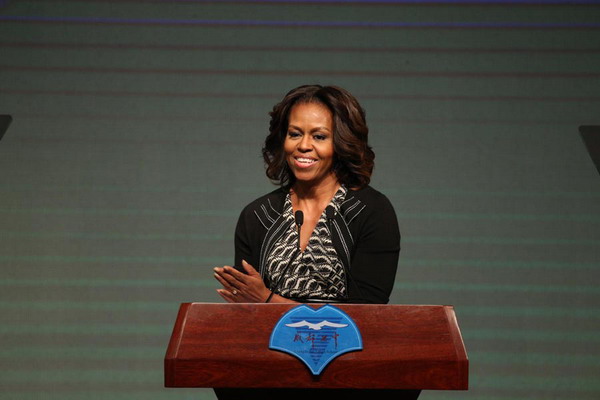 US first lady Michelle Obama speaks at Chengdu No 7 High School in Chengdu, Sichuan province on March 25, 2014. Wang Jing / For China Daily
On March 25, US first lady Michelle Obama's first stop in Chengdu was at  a high school, the Chengdu No.7 High School, as she had previously visited the Second High School attached to Beijing Normal University during her stay in Beijing.
The US first lady's visit to the school did not surprise Chengdu residents, as it is an honor to have their children enrolled at the No.7 High School. So what attracted the US first lady to visit the school?
Xinhua attributes the reason as a result of the school's reputation for its online education program which benefits students in rural areas. In 2000, the school launched its first distance education high school in China, sharing its teaching videos, audio programs, pictures and texts with faraway schools.
An alumnus, now CEO of the popular Chinese search engine Sogou.com Wang Xiaochuan felt that one of the school's stronger characteristics is its online school, whose most important goal is to provide more people with high quality education resources.
In addition to its sustained efforts in online education, the school's education program enjoys a strong reputation. According to its website, the school has nurtured 10 academicians of the Chinese Academy of Sciences and Chinese Academy of Engineering, as well as nine gold medal winners from the International Olympiad in various areas. Every year, more than 400 students from the school win awards at city level or higher in a variety of contests.
The school's website says it has magazines on psychology, literature, science, and English, a student television and radio station, dozens of student associations and over 30 selective courses, providing its students a broad range of opportunities.
Moreover, like the Second High School attached to Beijing Normal University in Beijing, Chengdu No.7 High School has exchange programs with a number of schools scattered all over the globe such as Jenks High School in the US.