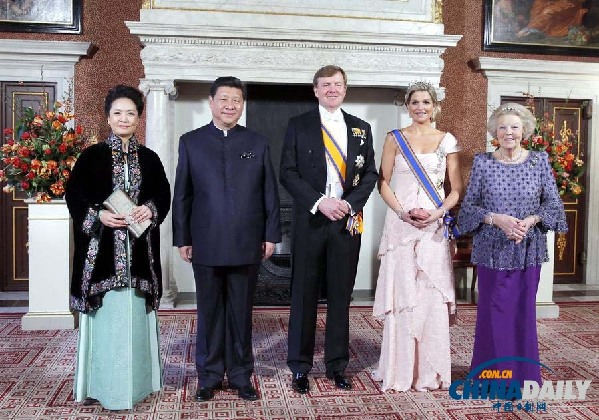 Chinese President Xi Jinping (2nd L), his wife Peng Liyuan (L), Dutch King Willem-Alexander (C), Queen Maxima (2nd R) and former Queen Beatrix (R) pose for photos in Amsterdam, the Netherlands, March 22, 2014. [Photo/chinadaily.com.cn]
While they may be divided upon what the "Chinese dream" exactly means, Chinese people would agree the "renewal of the Chinese nation" is an essential part of such an aspiration.
China has successfully erected its economic prowess to become the second-largest world economy and an important player in shaping the new world economic order.
However, it must be understood that growing economic strength is only one aspect of national rejuvenation.
An indispensable part of the Chinese nation's revival involves the rebuilding of its cultural national identity and dignity.
If China's success story within the economic arena is one of how integrated it has ultimately become a part of the global regime, its cultural identity will stem from how unique it is from other parts of the world.
While it adds to the cultural richness of the world, such uniqueness constitutes a nation's lifeline and bolsters its long-term vigor and vitality.
No matter how developed its economy is, a country with a 5,000-year history like China would hardly be defined as being rejuvenated if it lacks its own cultural identity and uniqueness in today's world.
It is exactly for that reason that President Xi Jinping's traditional Chinese suit, which he wore at Saturday's State banquet hosted by the Dutch royal family, has won applause from domestic audiences.
Almost all media publications have carried large front-page photos of President Xi wearing a distinctive redesigned Zhongshan suit, a fusion of fashion and culture, and a large number of newspaper readers and Internet users have expressed their favor for such a formal public appearance.