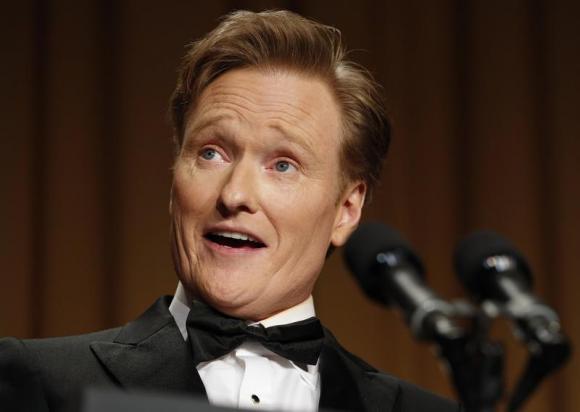 Comedian Conan O'Brien speaks at the White House Correspondents Association Dinner in Washington April 27, 2013.[Photo/Agencies]
Comedian and late-night talk-show host Conan O'Brien will host this year's MTV Movie Awards, the unbuttoned show that irreverently honors Hollywood's best kisses and best fight scenes, the MTV network said on Wednesday.
It will be the first time that O'Brien, 50, has hosted the annual show, which will take place on April 13 at the Nokia Theatre in downtown Los Angeles and which serves as lead-in to the summer movie season.
"After eight years of intense negations, I am honored to announce I am hosting MTV's second most prestigious awards show," the flame-haired comedian quipped in a statement.
Nominations will be announced on Thursday. MTV, which is owned by Viacom Inc, said the show will also feature unseen clips from upcoming summer films.
O'Brien, the host of late-night talk show "Conan" on cable network TBS, is known for his oddball, youth-skewed humor, which marked a generational shift when he began a 16-year stint on NBC's "Late Night" talk show in 1993.
The MTV Movie Awards offers a cheeky take on Hollywood's usual black-tie and gown awards season by handing out golden, popcorn-shaped trophies in categories like "best villain" and "best gut-wrenching performance."
The awards categories bestow honors to the year's blockbuster hits likely to have been overlooked by industry stalwarts the Oscars and the Golden Globes.
Previous MTV Movie Awards hosts include actresses Lindsay Lohan and Rebel Wilson, and comedians Sarah Silverman and Jimmy Fallon.