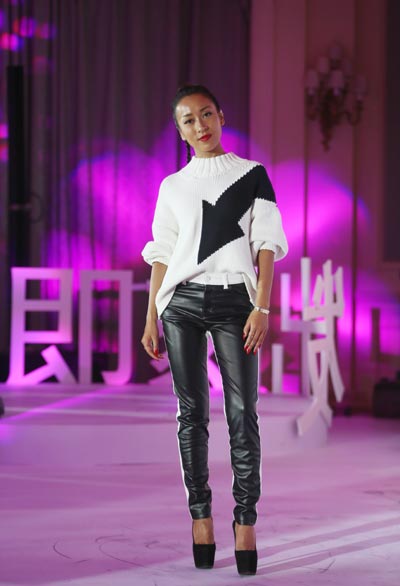 Jike Junyi. Photo by Zou Hong / For China Daily
Her tanned skin color and passionate personality also made her a favorite of the fashion industry. She was featured on the cover of the Chinese edition of Vogue magazine soon after she won third place in The Voice of China.
Lucia Liu, one of China's most prominent fashion stylists, who is the style director of Harper's Bazaar China, has been working closely with Jike after she signed on with TH Entertainment in early 2013. Liu will also design the costumes for Jike's upcoming concert, which, as she describes, will be eye-catching and cutting-edge.
"I am quite inspired by her skin color, which balances the clothes I chose for her," says Liu, who works between Beijing and London. "We are also good friends. She really likes eating hotpot."
In one of her hits, Colorful Black, Jike sings, "I have dark skin, an intuitive soul and I stick to my color. It doesn't matter how you look at me. You will see my colorful black."
"I used to hate my skin color," giggles Jike, who, like many Chinese young women, was obsessed with white skin tone. She bought lots of whitening toners, but all failed to work.
"Now, I love my skin color because it makes me special. I guess that is my natural gift, like singing," she says.