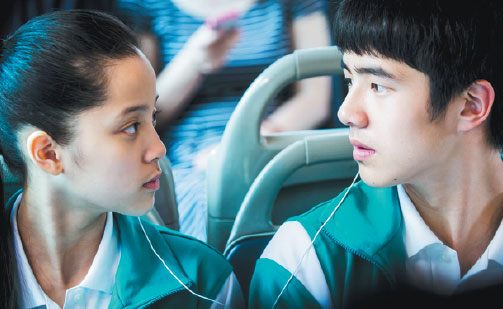 Beijing Love Story is a box-office winner on Valentine's Day. Provided to China Daily
It is calculated that the Lantern Festival on China's lunar calendar falls on Valentine's Day once every 19 years. And as if to double the bliss, box-office revenues for the country's cinemas exploded into rosy fireworks.
On Feb 14, total receipts for the mainland market, according to data released by Ent Group, an industry analysis firm, added up to 215.48 million yuan ($35.48 million) and attendance reached 5.31 million people, setting both records for that day.
Headlining the holiday lineup is Beijing Love Story, a romantic comedy written and directed by Chen Sicheng. Like Xu Zheng of Lost in Thailand, Chen is an actor who has just dipped in the waters of behind-the-camera filmmaking. Raking in 102 million yuan on the first full day of release, it sent a strong signal that film stars can double as film directors with serious earning power. To be fair, both movies rely more on their story-telling skill than pure star wattage.
Beijing Love Story portrays five pairs of lovers, spaced out by age, from puppy love all the way to the years of senility.
The tales are connected but not interwoven in narrative, ending on an elderly couple whose strange love triangle frames it as a companion rather than an antidote to mortality.
Instead of making love invincible, this film defines love as "a string of affairs bracketed by passion for the early years and a familial feeling for the latter". It advocates a very Chinese notion of love as mutual understanding and forgiving more than anything else.
Unexpected Love, another movie that opened on the same day, also recounts several pairs of lovers, but all in the same age bracket. Their differences lie in personalities. It has the similar hallucinatory idealism of glitter and life in the fast lane as the Tiny Times franchise, but failed to achieve similar box-office clout.
China has many days associated with romance. And a good screen love story has the potential to win the hearts of a sizeable audience on any day.